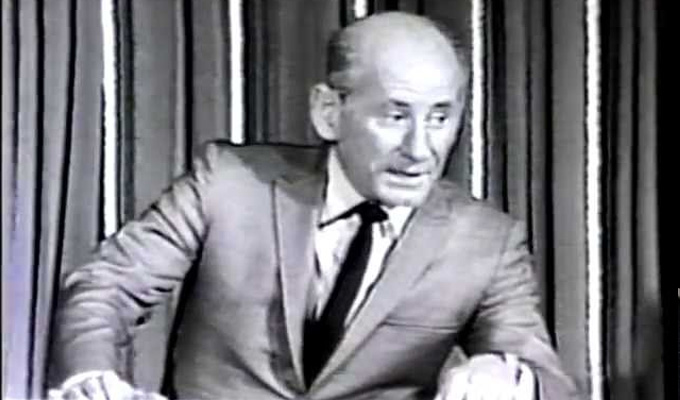 RIP America's favourite heckler
The most famous heckler from the golden days of American TV has died at the age of 102.
Irving Benson played Sidney Shpritzer, who would lob insults from the balcony at Milton Berle on variety shows of the 1950s.
He was also said to be one of Johnny Carson's favourite comics and appeared frequently on his Tonight Show.
Benson started his career on the vaudeville circuit, and entertained troops during World War Two.
For more than a decade was in a double act with straightman Jack Mann, from 1946, and in the 1960s Berle hired him to 'interrupt' his shtick on TV.
During one exchange, from a 1966 show – below – Berle complains: 'You keep cutting me off. How will anybody know what I'm going to say?'
Spritzer shot back: 'By watching Johnny Carson the night before.'
In 2010, a documentary about him, The Last First Comic, looked at the burlesque roots of American comedy scene, citing him as the last of a generation.
Benson died on May 19 at his home in Port Jefferson, New York state, but his death was only reported at the weekend.
Published: 31 May 2016
What do you think?