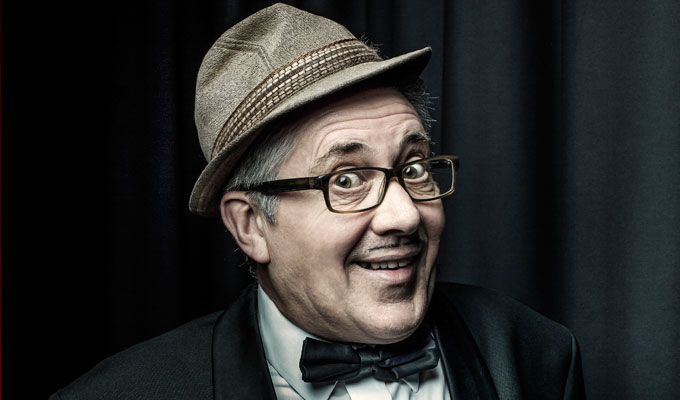 Count Arthur Strong to appear in panto
Count Arthur Strong is to make his real-life pantomime debut.
The bumbling character created by Steve Delaney is to play Baron Hardup in Cinderella at the London Palladium this Christmas.
The character was asked to appear in a local pantomime in the 2014 Christmas special of his Radio 4 show… but it didn't go well. And the London Palladium has always featured heavily in Count Arthur's recollections of the heyday of variety. In his 2006 live show, he even set his sights on staging Count Arthur Strong The Musical there.
Cinderella will be the first panto at the Palladium in 30 years, and also features America's Got Talent champion Paul Zerdin, who plays Buttons, the role the comic ventriloquist also took in Plymouth last year.
The cast also includes Paul O'Grady, who plays The Wicked Stepmother, Julian Clary, as Dandini, West End star Lee Mead as  Prince Charming and Nigel Havers as Lord Chamberlain.
Producers say the roles of Cinderella, the Fairy Godmother and the Ugly Sisters will be announced soon.
Earlier this year, co-director Michael Harrison told actors' newspaper The Stage that 'the last thing I want is celebrity casting for the sake of celebrity casting. I want stars but I want every single person on that stage to be able to do it and that's the balance we have got to try to create.'
Cinderella will be staged by the world's biggest pantomime producer  Qdos Entertainment, who say: 'This lavish and spectacular production features sumptuous costumes, magnificent scenery and the unmissable and magical breathtaking moment when Cinderella swaps her rags for a stunning Ball gown and is transported to The Prince's Ball.'
The show will run at the London Palladium from December 9 to January 15, 2017.
Published: 26 May 2016
Recent News
What do you think?