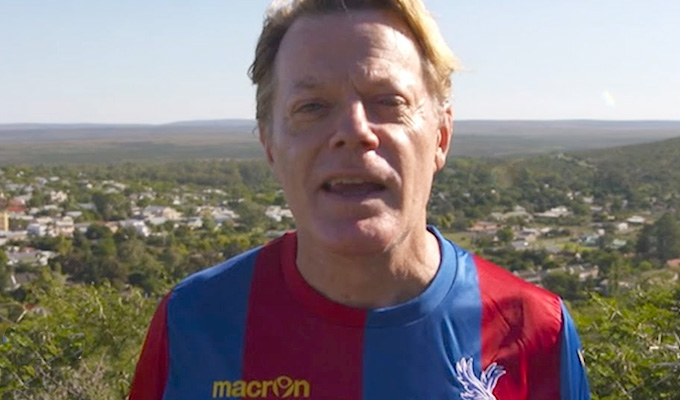 Eddie Izzard: My homophobic abuse at FA Cup Final
Eddie Izzard says he was subjected to homophobic abuse at the FA Cup final at the weekend.
The comic, and 'action transvestite', also revealed that another man was recently arrested near his home for making similar taunts.
He spoke out while talking to students in Birmingham on Monday – where he said that he took a positive message from being abused by a fellow Crystal Palace at Wembley Stadium on Saturday.
According to Buzzfeed, Izzard said: 'Someone [verbally] attacked me and was exceedingly horrible. I was wearing a Crystal Palace shirt; he said 'You're a fucking disgrace', and I went, "Hey what the bloody hell are you saying," and all the other Palace fans came out and said "Hey, back off, man."
'And I just thought it was actually rather positive, because only one guy was screaming homophobic abuse at me rather than 20 or an entire section of an audience.'
Proud and Palace, the LGBT fan group for Crystal Palace, condemned the fan's actions.
They said: 'The Cup Final was one of the proudest days in our club's history so to have it marred by the incident is deeply saddening
'We are, however, cheered by the news that several Crystal Palace fans stepped in to support Eddie. In Eddie's own words this in itself is progress.
'Eddie is truly "one of our own" and the fans who spoke up in the face of homophobic/transphobic abuse we send our sincere thanks.'
Izzard has been a long-term supporter of Crystal Palace and became an associate director at the club in 2012.
He was speaking to the students as part of his tour to persuade people to vote to remain in next month's EU referendum.
Published: 26 May 2016
What do you think?