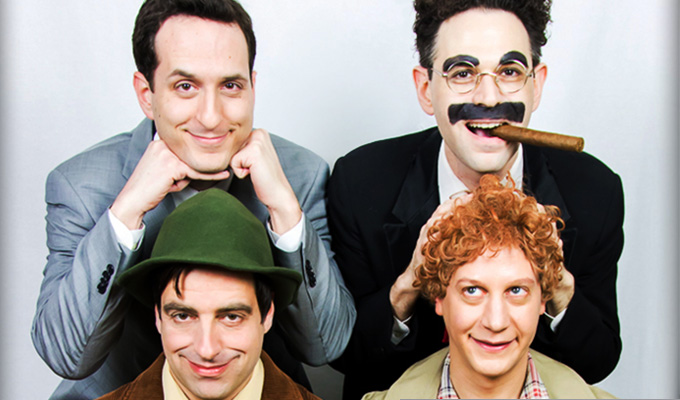 Marxism rises again...
A 'lost' Marx Brothers musical is to open off Broadway later this month.
I'll Say She Is is a revival of the 1924 New York revue that kick-started the comedians' career, getting them noticed beyond the vaudeville circuit.
And among the cast of the new production is British comedian Matt Roper, best known for his alter-ego Wilfredo, who plays Chico. 'I'm hugely proud to be a part of it,' he said.
The Marx Brothers were struggling when they first staged I'll Say She Is, having fallen out with impresario E. F. Albee and failed in an attempt to produce their own shows on the alternate Shubert circuit.
I'll Say She Is was a compilation of some of their old routines and musical numbers, loosely tied together by the theme of a rich girl meeting a succession of male suitors. The highlight was a long sketch featuring Groucho as Napoleon, which the Brothers regarded as the funniest thing they ever did.
The revue caught the attention of critics, and ran for a year. The brothers went on to star in two more hit Broadway shows, The Cocoanuts (1925) and Animal Crackers (1928), which were both subsequently made into films. However, I'll Say She Is was never made the transition, although a courtroom scene was revisited for Duck Soup, meaning it was lost to history, until writer and performer Noah Diamond decided to restore it, spending six years researching and adapting it.
He mounted a small-scale production at the 2014 New York International Fringe Festival which Diamond said 'showed that the Marx Brothers comedy material in I'll Say She Is survives'.
Now the new production will be staged at at the off-Broadway Connelly Theater, with previews starting from May 28, with Diamond reviving his role as Groucho, Seth Shelden as Harpo and Matt Walters as Zeppo.
'It's like getting a whole new early Marx Brothers movie that you've never seen,' Diamond added, calling the revival 'a chance to see the show in all its glory.'
Meanwhile, his book Gimme a Thrill: The Story of I'll Say She Is, the Lost Marx Brothers Musical, and How it Was Found has just been released. Buy it here.
Published: 19 May 2016
What do you think?