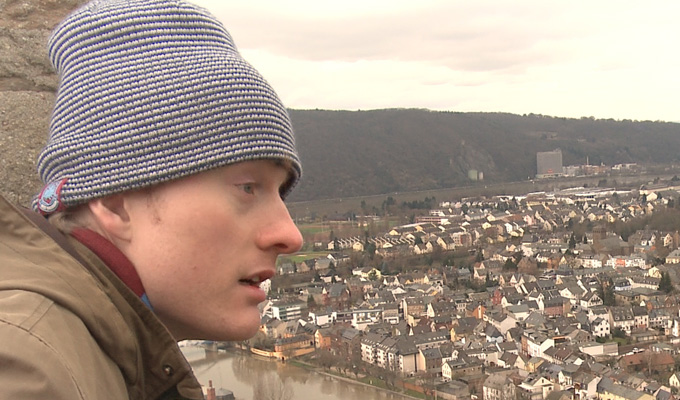 James Acaster hits Germany
James Acaster is to launch a follow-up to his web series Sweet Home Ketteringa next week, as producers Turtle Canyon Comedy unveil a new slate of online shorts.
The serial Edinburgh Comedy Award nominee has headed to Lahnstein, in the Rhineland region of Germany, for Sweet Home Lahnsteineringa.
The trip was paid for by fans, after the comic raised just under £5,000 via crowdfunding.
Also starring fellow comedians Jack Barry and Emma Sidi, it is a sequel to last year's series in which he returned to his home town of Kettering. Those six episodes attracted a total of more than 50,000 views on YouTube.
For this run he visited Kettering's official twin town, saying: 'You've got to know the twin - you can't know Tia without knowing Tamera, you can't know Tweedledee without knowing Tweedledum.'
Here's an exclusive clip from the series, which launches on Tuesday next week:
This summer, Turtle Canyon Comedy, the indie producers behind this series, are also launching:
Turtle Canyon Lecture Series: Short, expert-led lectures from comedians who have been given the opportunity to educate us all on their specialist subjects. Will Duggan on saxophones, Jordan Brookes on the brain, Stuart Laws on the German biscuit lebkuchen, Eleanor Morton on Victorian explorers, Matt Winning on Thanksgiving and Evelyn Mok on privilege.
The Plane Spotters: A structured reality comedy show based around a group of Plane Spotters who have to deal with the influx of actors, designed to push 'dramatic' storylines on the otherwise unassuming group. Starring Harriet Kemsley, Annie McGrath, Johnny Pelham and Patrick Turpin.
Resting: A comedy-drama about actors, with no work, big Ambition but decreasing enthusiasm for the day jobs they have to complete to get by. Lauren Reed, Sydney Stephenson and Isla Ure head the core cast, with cameos from Ben Target, Elizabeth Tan and Robert Lindsay.
The company's regular series by Harriet Kemsley, Women's News, will continue and they will be releasing a selection of short films and series starring Birthday Girls, Cam Spence, Gabby Best, Graham Dickson, Tom Golding, Joe Davies and Pat Cahill.
Published: 13 May 2016
What do you think?