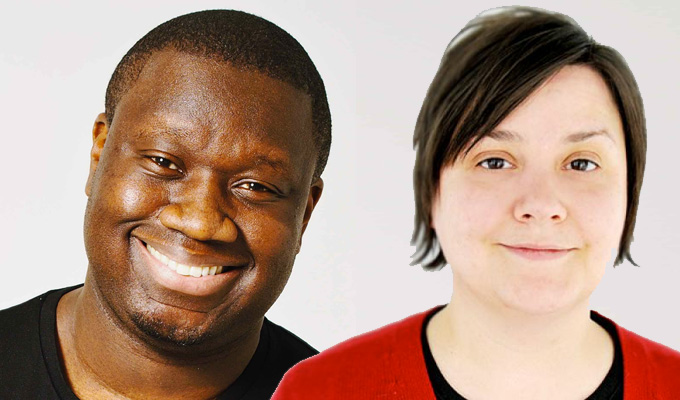 From comedians to roving reporters
Comedians Funmbi Omotayo and Susan Calman are to become reporters for a new daily magazine show about the world of television.
Too Much TV will air live on BBC Two at 6.30pm each weekday from February 29.
It will be presented by Emma Bunton, Sara Cox, Rufus Hound and Aled Jones, pairing up on rotation each night.
The BBC says: 'With more TV available to us than anyone can keep up with, this new series will inform viewers about what's on, be a place to glean insight and hear opinions, catch the water cooler moments you may have missed, and indulge in a good old gossip about the biggest shows on TV that week.
'We are also excited to have comedians Funmbi Omotayo and Susan Calman as part of our Too Much TV family – they will be out and about in their tireless quest to bring you the insider scoop on all things TV.'
Rufus Hound said: 'With the premise of the show being that there's Too Much TV, it may be hard to see how making more of it is going to help. And yet, I'm assured by the BBC's very top scientists that it definitely will. I guess we'll just have to wait and see if they're right or not.'
Omotayo, previously a regular panelist on ITV2's I'm A Celebrity Get Me Out Of Here Now, said: 'I'm absolutely delighted, and can't wait to get started.'
Calman, whose new Radio 4 series Keep Calman Carry On starts tomorrow, said she too was 'delighted to be... an intrepid reporter' on the show.
Thirty 25-minute episodes have been ordered by the BBC's daytime commissioning team.
Published: 16 Feb 2016
What do you think?