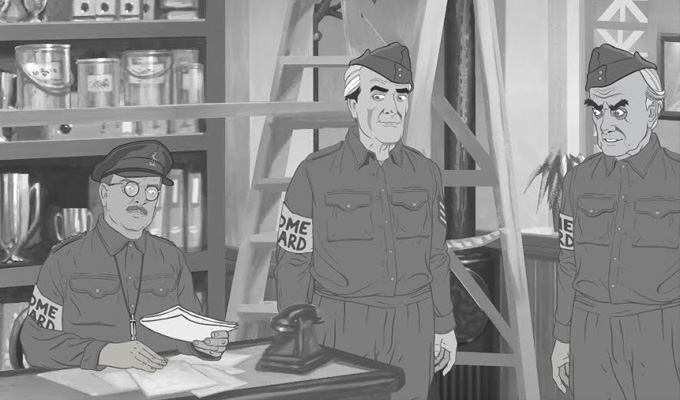 Lost Dad's Army episode to be released as an animation
A long-lost episode of Dad's Army is to be revived – as an animation.
A Stripe For Frazer was originally transmitted on Saturday March 29, 1969, but the tape was wiped – making it one of three episodes of the classic sitcom missing from the BBC archives.
Seven years ago, a fan submitted a soundtrack of the episode to the Corporation, but there is still no video.
So now an animation has been created for the BBC Store, the new digital shop for archive programmes.
The plot of the lost episode has Captain Mainwaring making Frazer a Lance Corporal – causing him to vie with Lance Corporal Jones for the commanding officer's favour. To get the upper hand, Frazer resorts to issuing a series of increasingly bizarre charge sheets – to the consternation of the platoon.
The 30-minute animation will be released on February 4, the day before the new reboot of the Home Guard comedy is released as a feature film. It also follows the success of We're Doomed! The Making Of Dad's Army, which aired on BBC One before Christmas.
Jonathan Green, director of the BBC Store said: 'As the UK renews its love affair with Dad's Army we're delighted to be bringing fans an exclusive chance to buy this brilliant lost episode which has been missing from the Dad's Army portfolio for nearly half a century."
Two other episodes of the Jimmy Perry and David Croft sitcom are still missing: The Loneliness of The Long Distance Walker and Under Fire, both of which also originally aired as part of the second series in the spring of 1969.
Dad's Army ran for nine series and 84 episode from from 1968 to 1977, regularly gaining audiences of 18 million.
• The BBC Store is also asking Dad's Army fans to nominate their favourite episodes for inclusion in an exclusive Best Of... collection by tweeting suggestions @BBCStore.
#BestDadsArmy.
Published: 7 Jan 2016
What do you think?