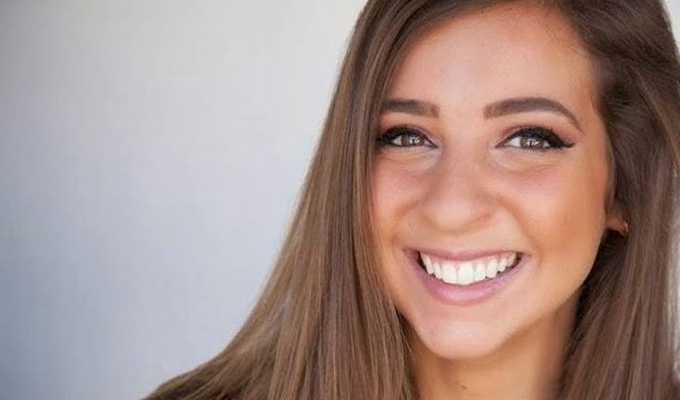 Is YouTuber Gabbie a joke thief?
• 'It's always hard to talk about comedy. Better just to try to do it.' Will Ferrell.
• You might not have heard of The Gabbie Show, but plenty have. She's a YouTuber with 37million views and 4million people follow her on Vine. But with profile comes scrutiny, and now she's being called out for joke theft in this video, which has itself gone viral, pointing out similarities between her output and gags from Bo Burnham, Mitch Hedberg and Louis CK.

In her defence, Gabbie Hanna protests: 'I'm just an internet person who tells stories about my life.' She concedes she may have absorbed the material subconsciously, but said: 'Out of the literal hundreds of videos I've created across my platforms, 3 little hiccups (I feel at least) can be chalked (chocked?) up as "fuck, someone else said this shit before."'
• This is rather lovely:

As inspired by the Two Ronnies. pic.twitter.com/vUZNs2LcBw

— Tash (@TashP351) December 21, 2015
•
Want an Australian house that's noice, that's different, that's unusual? The Melbourne property that millions of fans of Kath and Kim know as Chateau Kath has gone on the market for an undisclosed fee. The four-bedroom in the Patterson Lakes suburb (called Fountain Lakes in the sitcom) boasts 'spectacular waterfront views' – as well as its place in TV history. Here is the agent's website.
• A note to American right-wingers: Your President's name is Obama - while President Obonjo is a fictional character created by UK comic Benjamin Bello as the uniformed leader of 'Lafta Republic'. This week he unearthed this old post, below, on the Positively Republican! Facebook feed, railing against 'communist muslum president Obonjo… and his band of commies' demand they be shelled. 'It's a bit scary that there are actually some Americans out there, presumably all old enough to vote, who seem incapable of distinguishing President Obama from the comic creation of a British stand-up,' Bello said. 'But I am sure that President Obonjo would be flattered at getting recognition in the United States. On the other hand, he'll be hoping that if Donald Trump does get into the White House, he doesn't decide to try and bomb Lafta Republic.' He jokes, but a poll this week found that 30 percent of Republicans support bombing Agrabah, the fictional town in Disney's Aladdin.

• Jack Whitehall has a rather different attitude to Christmas than his dad Michael . 'My dad would probably like us to dress up for lunch but I don't,' he says. 'I ate in my pants one year.'
Tweets of the week
Can't believe the casting on this new Harry Potter play. pic.twitter.com/nZIbSfNhqy

— Bennite 2.0 (@twlldun) December 21, 2015
Now is the winter of our discontent, except in Australia

— Emo Philips (@EmoPhilips) December 22, 2015
@chortle What Christmas decoration has soul? A-Wreath-A Franklin

— Gareth Alexander (@NottingIdiot) December 22, 2015
Published: 24 Dec 2015
What do you think?