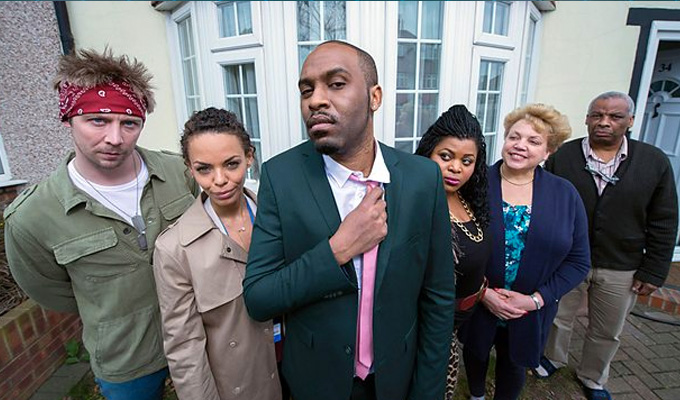 BBC orders Dane Baptiste sitcom
Dane Baptiste has landed his own BBC Three sitcom, after the success of a pilot earlier this year.
The loosely autobiographical Sunny D reflects the comic's struggle with escaping a tedious office job to pursue his dream of performing, fleeing the family home and his fractious relationship with his twin sister.
Rising Damp's Don Warrington plays Baptiste's intimidating father and Gbemisola Ikumelo his irritating twin.
Baptiste, who writes and stars in the show, said: 'I'm incredibly happy that Sunny D has been commissioned! It represents the possibility of the mainstream opening the comedy landscape to a new perspective and the resurrection of the Black British sitcom.
'I grew up watching sitcoms on the BBC, so to have them invest in my project is an opportunity that I relish and am grateful for.'
He tweeted this morning: 'The BBC have given me the best present I could ask for other than free wifi everywhere..'
Piloted as part of the BBC's Comedy Feeds strand this summer, the four, 25-minute episode series begins shooting early next year.
Further cast details are yet to be announced. John Thomson played Baptiste's loathsome boss in the pilot, with Liz Hume Dawson as his mother, Sasha Frost as his girlfriend and stand-up Tommy Rowson as his best friend.
The director was Chris Cottam, who helmed Set List's television adaptation and several of Rich Hall's documentaries for BBC Four.
Sunny D is satirical in its representation of race relations and employs a fast-edit style. And Baptiste told fellow comic Samantha Baines on Hoxton Radio earlier this month that 'with the nature of BBC Three being online, we're trying to cater to a digital generation'.
Speaking about his first 'foray into acting', he described himself as 'the weakest link' in the pilot because 'everyone else was amazing'.
An in-house BBC production produced by Lucy Armitage and executive produced by Rebecca Papworth, Sunny D is the latest Comedy Feed to become a series after Josh, People Just Do Nothing, Impractical Jokers and Fried.
Papworth said: 'Sunny D gives full flight to rising star Dane Baptiste's comic rage against an unsympathetic universe. It is laugh-out-loud, imaginative, compelling and honest storytelling from a big name of the future.'
The series was commissioned by the corporation's controller of comedy Shane Allen and Damian Kavanagh, controller of BBC Three, who said: 'We're excited to have Dane and Sunny D on BBC Three. BBC Three will always be the home of the best and brightest new comedy talent.'
Baptiste was the first black British nominee for an Edinburgh Comedy Award (for best newcomer in 2014), and he will appear on the stand-up show Live From The BBC, also airing on BBC Three early next year.
The Sunny D pilot is repeated on Boxing Day on BBC Three and can been seen on the iPlayer here:
And here's a review of the pilot from the time of its release in July.
- by Jay Richardson
Published: 21 Dec 2015
Recent News
What do you think?