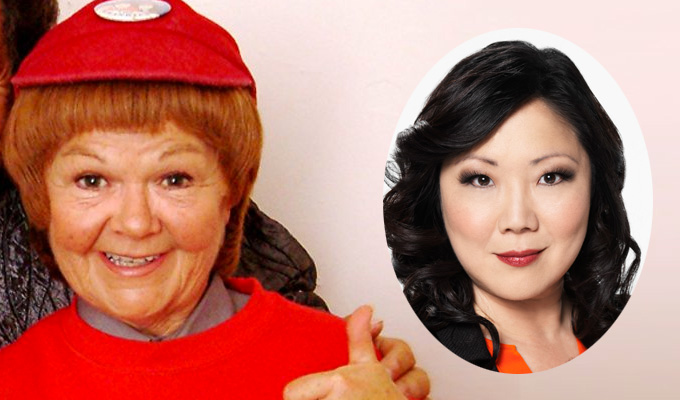 AbFab movie 'is racist'
The new Absolutely Fabulous movie has been branded racist – after casting Janette Krankie as a Japanese fashion designer .
The 68-year-old, best known as schoolboy Wee Jimmy Krankie, plays a male fashionista called Huki Muki in the movie, which is set for release next summer.
But comedian Margaret Cho has led the charge of racism against Jennifer Saunders' movie, likening it to the disgraced practice o of minstrel 'blackface'.
She tweeted: 'I am fucking sick of yellowface. Have some respect. Hire Asian actors for Asian roles. I'm disgusted. I'm upset because I love them [Ab Fab]. I really was looking forward to it too. That's sad.
'Yellowface is racism. Sorry. It's unacceptable. Not now. I was thrilled about [the] Ab Fab movie, but now I just can't be. I'm very disappointed.'
'I love AbFab but #YELLOWFACE is something I cannot watch - I just can't. It's sad when heroes are no longer heroic. Too bad. #racism.'
Cho, who is in London for a string of live stand-up dates, added: 'It's hard enough to get into film and TV as a person of color - and when roles written for us are played by white actors - it's an outrage.'
'We've tried to shame racism out of existence but I guess some people really don't care. They're shameless but NOT BLAMELESS.'
Saunders and producers BBC Films have declined to comment on the row,
Janette has filmed scenes with Joanna Lumley, wearing a short black wig, giant sunglasses and a red coat
It has also been announced that Cho is developing a comedy for Amazon Studios in which she stars as an addict whose family runs a pot dispensary, titled Highland.
Published: 16 Dec 2015
What do you think?