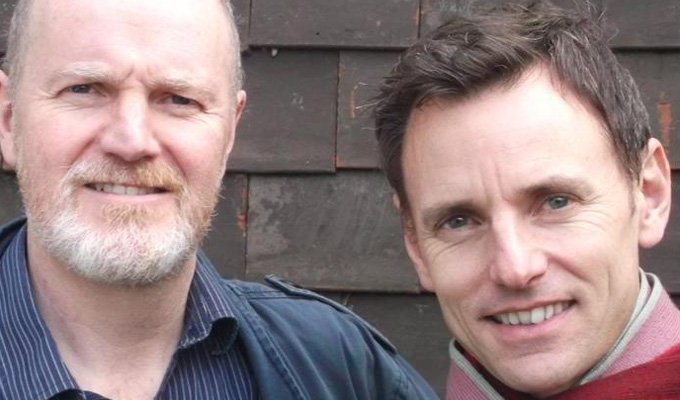 C4 to mock the Royals in new comedy
Channel 4 is making a comedy soap opera about the Royal Family's love lives.
The Windsors is written by George Jeffrie and Bert Tyler-Moore (pictured), creators of Star Stories and Pete Versus Life, and will begin shooting next year.
'In The Windsors, our much-loved Royal Family is re-imagined through the lens of a soap opera, and although the stories are completely fictional, they are inspired by real events' revealed Channel 4's head of comedy Phil Clarke, who commissioned the series with Nerys Evans.
'As a result, writers Bert and George have outdone even the funniest, most ludicrous issue of Hello! magazine ever.'
Directed by Mongrels' Adam Miller, the six 30-minute episodes are produced by Toast of London's Izzy Mant for Noho Film and Television, the company set up by Robert Wulff-Cochrane and Camilla Campbell after they left Channel 4 as heads of drama.
Wulff-Cochrane said: 'Infused by our gossip-fuelled sense of what we think we know about them, The Windsors is a joyous weekly peek behind the curtains of Britain's most famous family.'
The commission follows a successful non-broadcast pilot shot earlier this year. Casting of the series is still to be confirmed.
The Windsors might appear a bold commission for Channel 4, which in 2013 was accused of 'degrading' the Royal Family by MP Andrew Rosindell following an episode of Fresh Meat in which Jack Whitehall's character JP referred to Prince Harry getting a hand job from an assistant manager at Abercrombie & Fitch.
However, Harry appears to take Whitehall's gags at his expense in good humour, as he showed during this year's Royal Variety Performance, when he jokingly feigned not to shake the comic's hand after he lightly roasted him.
E4 already airs faux-reality show Almost Royal, which stars Ed Gamble and Amy Hoggart as aristocratic siblings in distant line to the throne travelling around the US.
And The Windsors follows sensationalist comedy-soap The Royals, starring Liz Hurley as the fictional Queen Helena, which airs on the E! Channel in the UK and US.
- by Jay Richardson
Published: 16 Dec 2015
What do you think?