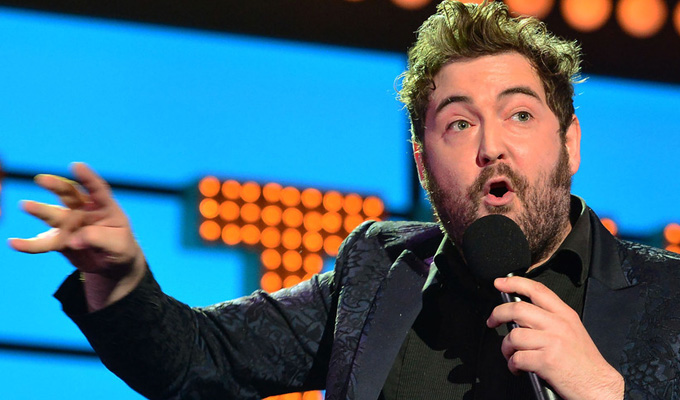 Nick Helm: I died on Live At The Apollo
Nick Helm has described his appearance on Live at the Apollo as 'the worst gig of my life'.
His set, which was characterised by mass walkouts and heckles, was recorded in September, and airs on Monday on BBC Two.
But The Uncle star said that he was 'still dealing with' the trauma of the show, and that talking about it at subsequent gigs was 'like therapy'.
At the time it was reported that 1,000 people walked out of the 3,000-plus seater venue, but Helm joked: 'I normally split rooms in half right? So 1,000 is actually a good result for me!'
The comic, who describes his tongue—in-cheek act as 'the human car crash of light entertainment', was speaking to fellow comic Joel Dommett and composer Steve Dunne on their podcast The Comedy Score.
He recalled: 'I went out and did my routine, as I'd planned it. And they didn't laugh. They didn't laugh at all. It was like being in slow-motion, it was like being trapped under water or something.
'It was weird because I could see my Mum and Dad and… it was like I was losing, it was like a sports event and I'd dropped the ball – I imagine.
'And then they started leaving. Then one person started booing me. Then one person shouted out "Errol" because that's the name of my nephew in Uncle. It was just this really, really, really weird experience and I was performing it like it was going really well.'
Before Helm had taken the stage, producer Anthony Caveney had encouraged him: 'Don't worry Nick, nobody dies at The Apollo'. 'So I proved him wrong,' Helm boasts.
But on reflection, Helm added: 'I don't think I did a bad job, I just think I was in a room of people that didn't get it. But at no point did they get it. It was almost like they were wilfully not getting it, they were wilfully taking it at face value.
'When I came out and did my shitty little jokes, and they didn't laugh, and I went "Oy! It's brilliant that joke!", they were just like, "Who's this guy, who's this guy telling us that his jokes are brilliant? We don't think they're brilliant" … I think they genuinely thought I was angry.'
Despite his embarrassment, Helm revealed that 'I've seen the edit, it's brilliant. The thing is, it's a good performance. I can't believe watching it back that I actually gave a performance as good as I gave. Because I watch it and I can barely tell. I don't think you can really tell. It just looks like a good gig.'
He concluded that comics get used to filming shows, then watching them back and 'if you look really closely you can see your dream dying in your eyes'.
Helm's edition of Live At The Apollo, which also features Roisin Conaty and Russell Kane, airs on BBC at 10pm on Monday (11.45pm in Scotland)
- by Jay Richardson
Published: 11 Dec 2015
What do you think?