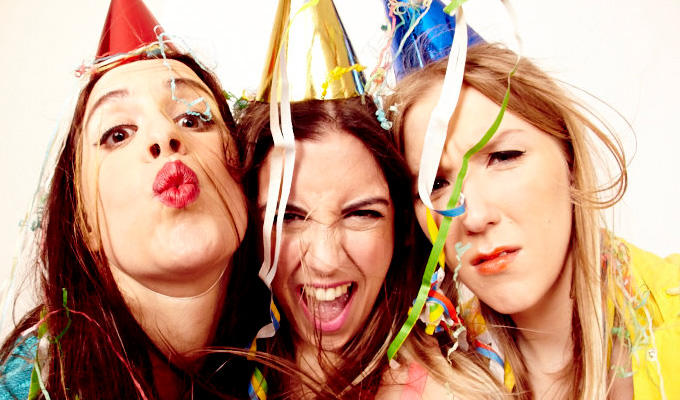 NewTube
Online video producers Turtle Canyon Comedy have announced a new batch of releases for the next few months.
The independent company, headed by comedian Stuart Laws, is moving into series, formats and short films from its traditional base of sketches and standalone clips.
Laws said the emphasis for the next batch of YouTube shows would be on 'higher production values' with the aim of backing comedians 'to make the projects they want to'.
Coming up are:
Charity Starts At Home: Four part sitcom starring Sarah Daykin, as seen on BBC Three's Together, Kieran Hodgson, Rose Johnson and Richard Rycroft. They are trying desperately to run a charity from a spare room. Guest stars include Ed Gamble, Rachel Stubbings, Rose Matafeo and Lizzie Daykin.
Birthday Girls: A new series about the life of a sketch group (pictured) on tour. The first episode takes place over a series of weekend gigs in Manchester and mixes real live performances with scripted scenes.
Mark Smith versus The People: A hidden camera chat show. Comic Mark Smith takes a seat on a bench in a park and as soon as a member of the public sits beside him a crew suddenly run in and hurriedly construct a chat show set around them. The show is then Mark engaging in chat show badinage with random members of the public, mixed with video sketches such as: What Does It Take For A Privileged White Man To Get In Trouble With The Authorities?
Totally Trented: The Retrospective: Grainne Maguire hosts a spoof Panorama-esque investigation into the legacy of Turtle Canyon's existing prank show Totally Trented. with David Trent.
The company will also continue to make sketches and one-offs with the likes of Twins, Yiannis Vassilakis, James Acaster, Evelyn Mok and Paul F Taylor.
The company recently launched a crowdfunding campaign to make a new series of James Acaster's Sweet Home Ketteringa, which is two-thirds funded with a week to go..
Here's a trailer for Turtle Canyon's next batch of releases:
Published: 30 Nov 2015
What do you think?