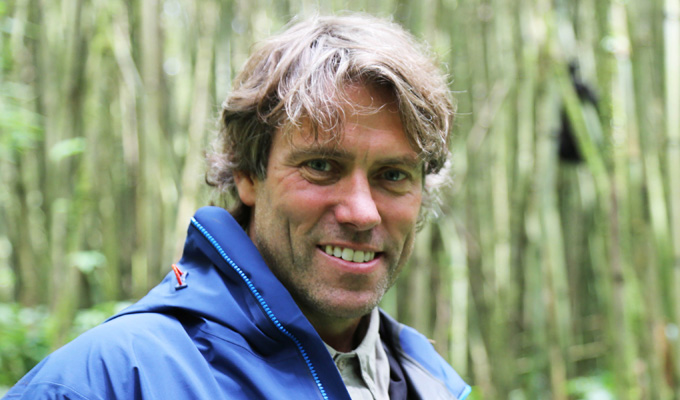 John Bishop and the gorillas
John Bishop is making a wildlife documentary for ITV, tracking mountain gorillas in Rwanda.
In the hour-long documentary, the comedian discovers the endangered species has a lot in common with his teenage sons: 'Bulging muscles but no sense. Plus they fart, flirt and pick their noses.'
John Bishop's Gorilla Adventure follows the stand-up as he joins a group of vets who have dedicated their lives to saving the few mountain gorillas left in the mountains and valleys between the borders of Rwanda, Congo and Uganda.
It was the same region David Attenborough visited for his famous sequence filmed among them in the 1970s. But Bishop didn't always have such sedate experience, as he witnessed a huge silverback male threaten the team as they try to treat a baby gorilla they fear has contracted tetanus.
Although there are fewer than 900 mountain gorillas left, the work done by vet Mike Cranfield and his team means this figure has increased from 600 when he started in 1998. They trek for hours every day through mud and rain to monitor the health of each gorilla and treat them at the first sign of illness of injury.
Bishop said: 'The commitment of the gorilla doctors is incredibly inspiring. And when you are so close to these beautiful animals, it is humbling to see how this commitment is saving such an iconic beautiful creature.'
ITV's factual commissioning editor by Andrew O'Connell said: 'This film promises to deliver a hugely engaging insight into the nature of some of the most charismatic creatures on earth, the survival challenge they face and the heroic work of a team of vets devoted to supporting them.
'With his natural wit and passion for the subject, John takes viewers on an adventure into their world and delivers a story that will charm and move in equal measure.'
Producer Sarah Peat, of Tigress Productions, added: 'It's breathtaking just to glimpse a gorilla in the wild, so we couldn't believe our luck when, from day one, John found himself surrounded by them. Mothers with babies on their backs came so close he had to get out of the way and huge Silverbacks blocked his path. It was an extraordinary experience for everyone including the vets.'
The programme is executive produced by Bishop's agent, Lisa Thomas for Lola Entertainment, the company they own together.
Published: 20 Nov 2015
Recent News
What do you think?