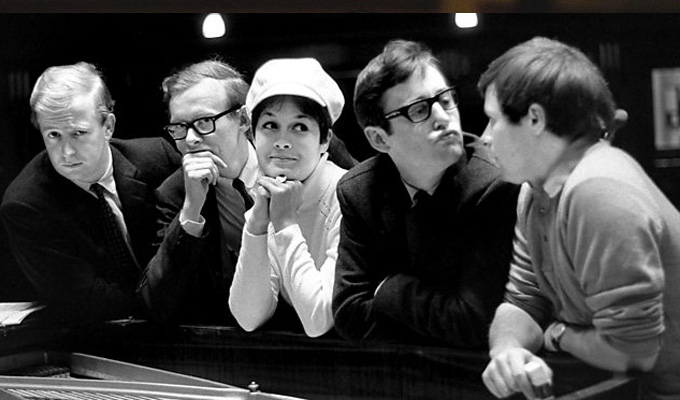 I'm Sorry I'll Read That Again... again
Classic radio comedy I'm Sorry I'll Read That Again is being revived for a new stage production, more than 50 years after it first aired.
The anarchic sketch show featured John Cleese, plus Graeme Garden, Bill Oddie, Tim Brooke-Taylor before they formed the Goodes.
David Hatch – later to be managing director of BBC radio – and Jo Kendall completed the cast.
Now the Gloucester-based Offstage Theatre Group has been given permission to revive the show for charity by original writers Oddie and Garden.
Oddie said: 'I have several reasons for not encouraging these young whipper-snappers from doing this show in public (actually, I don't much care for the idea of them doing it in private either). Firstly, they may be funnier than we were – hard to believe I know – which would annoy me a lot.
'Secondly, I do not wish in anyway to revive the careers of Tim Brooke- Taylor, Graeme Garden and in particular John Cleese. I would like a written guarantee that none of them will make any money out of this, especially not John. I, on the other hand, will be charging double PRS rates for my songs. Otherwise, I wish them good luck, although I don't mean it.'
The revival will launch at the Bacon Theatre in Cheltenham, on February 19, and producers have set up a crowdfunding campaign to raise £3,500 costs.
Barnaby Eaton- Jones, who is adapting the show, said: 'I've always wondered why this rich vein of comedy greatness wasn't tapped sooner… It's really not like work to be bringing this Best Of show to life on stage and for an audience to be introduced, or re-introduced, to such crazy creations as Lady Constance de Coverlet, Professor Prune and his Electric Time Trousers, The Tillingbourne Folk and Madrigal Society, Julie Andrews Dirty Songbook and the Rhubarb Tart Of Omar Khayyam, to name but a few.'
The original series ran from 1964 to 1973, and spawned Radio 4 panel show I'm Sorry I Haven't A Clue, when Garden wanted to keep the spirit of the show alive without the commitment to writing scripts.
Comedy historian Jem Roberts said: 'ISIRTA remains the closest that radio comedy has ever got to Beatlemania, and we'll never see the likes of those anarchic Sunday evening recordings again... Except, now, perhaps we will. Or something very like it.'
Here is a clip from the original:
And here is the video being used to attract funding:
Published: 16 Nov 2015
What do you think?