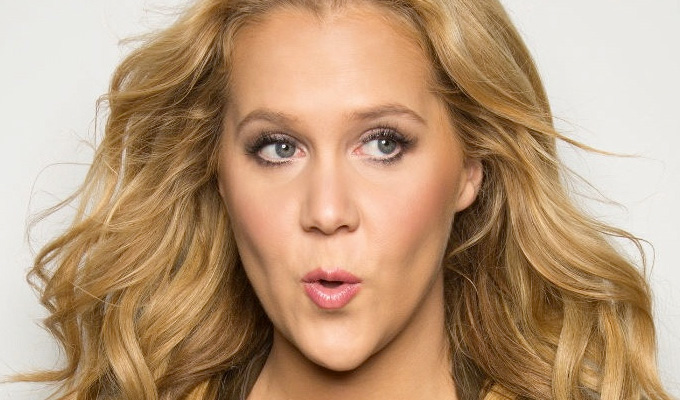 Amy Schumer shortchanged us!
Amy Schumer's fans are fuming after paying more than £50 for a show that lasted barely 45 minutes.
The comedian has admitted that the show in Portland 'felt short' but the venue said there would be no refunds.
Her 7.30pm performance at the Cross Insurance Arena on Saturday night was rushed so she could perform a second show that night. The later performance – which was not until 10.30pm – lasted more than an hour.
Many fans took to the venue's Facebook page to complain about being shortchanged. Especially as the early show was the first to go on sale.
Typical was Amanda Esposito, who posted: 'I paid a lot of money for pre-sale tickets (almost $85 each with added fees), to have her perform for only about 40 minutes. It was very disappointing.'
Jason King said: 'Very disappointed that we went through the effort of pre sale for the original show, only to be ripped off because a second show was later added and they got the longer set. Amy Schumer was great, but someone dropped the ball due to greed.'
And Sasha Roy wrote: 'It took longer to get out of the parking lot than how long the show lasted. $80 per ticket for 35 minutes was a bit too much. Still not happy about being gypped.'
In an interview with local TV station WCSH-6, Schumer said she felt 'horrible' about what she call a 'rookie mistake'.
And she posted the following on Twitter:
Loved the first crowd in Portland. You guys were amazing. Felt short to me too. Had to keep the show under 70 mins to move the next crowd in

— Amy Schumer (@amyschumer) November 8, 2015
She said she performed for 47 minutes; the rest of the time was taken with two support slots.
The incident had echoes of Sarah Silverman's disastrous gig at the Hammersmith Apollo, when she was booed when her much-hyped UK debut lasted little more than 45 minutes.
Published: 11 Nov 2015
What do you think?