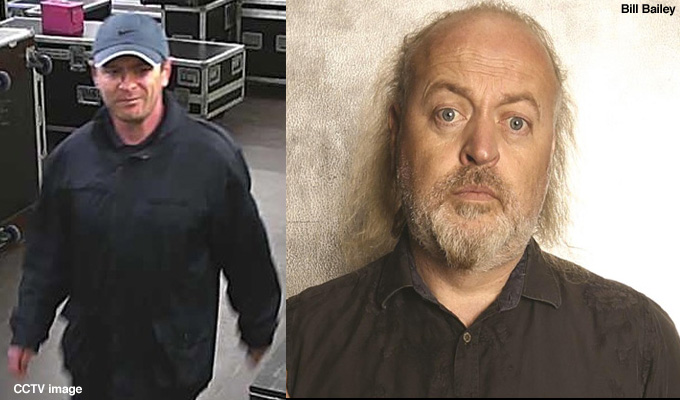 Bill Bailey bus theft: CCTV image released
Merseyside Police have issued CCTV images following the theft of Bill Bailey's tour van.
Detectives want to speak to the man in the footage, after a Mercedes Sprinter van was stolen from the car park of the Philharmonic Hall where Bailey was performing.
It is believed that the keys for the van were stolen from a production office at the venue while the crew were on a rbreak, as well as laptops and personal belongings. The vehicle is a silver/grey Mercedes Tiger Tours Sprinter Splitter van with the registration number CE14 VFS, pictured right.
A Merseyside Police spokesman said: 'Officers believe the man pictured may be able to assist them with their enquiries.'
After the incident Bailey wrote: 'I feel bad for the crew – laptops, phones, vans can be replaced, but not the personal stuff.'
He added that the incident 'attracted a fair bit of "banter", which in this case meant lazy stereotyping', adding: We don't know who the perpetrators were or what nationality, only that they were white and tracksuited, and had the cold, black hearts of habitual thieving rogues.'
Bailey's publicist originally tweeted images from the CCTV, but was advised to take them down.
Anyone who recognises the man on the CCTV footage is asked to contact police on 101 or the confidential Crimestoppers line on 0800 555 111.
Published: 29 Oct 2015
What do you think?