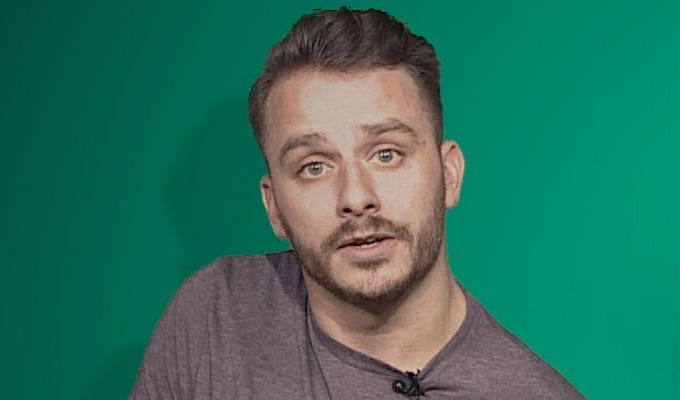 Dapper Laughs: Comics are snobs for not sticking up for me
Dapper Laughs has slammed comedians for not coming to his defence in the row that cost him his TV series.
He claims the comedy world did not back him over free speech because he's working-class – and because stand-ups who grafted for years resented his overnight success.
Dapper – real name Daniel O'Reilly - further claims that the snobbery was more insidious, insisting that his critics 'were basically saying that my fanbase wasn't intelligent enough to see that it was a joke' because they weren't middle class. 'As if someone in my audience, as opposed to someone in Frankie Boyle's audience, is more likely to go out and rape someone because of the subject matter', he added.
In his interview with Spiked magazine, O'Reilly didn't spare his scorn for the comedy world.
He said: 'I've created an audience that is willing to get up and pay for tickets and go and watch a live show and go and buy a comedy DVD, people who generally don't like stand-up comedy.
'It's a working-class, young audience that no one within the comedy industry are connecting with, because everyone wants to be intelligent and do political satire.
'If I was a comedian who had been busting my arse for the last five or ten years, and I'd only got 1,000 followers on Twitter, and I was struggling to get my show up and running in Edinburgh and, in the space of six months, someone comes on to the scene, going on stage and doing a fucking dick joke and making a video about getting his fucking knob out and getting 25million views on it, then maybe I would have chucked my morals out the window, too.'
O'Reilly also poured scorn on feminism, saying: 'I'm finding the way they use the term lad culture a bit sexist now. I don't think that there's anything wrong with men talking about what they want to talk about: swearing, drinking, fighting with each other, having a laugh, going down the pub, being lads', he says.
'But just because there's a group of feminists out there who don't like the way some lads behave, there are also masses of groups of women who love naughty, cheeky lads – who love attention from men.
'Again, I think it's a class thing. The majority of the girls that I grew up with were worse than the lads. They talk about worse things than lads. And they're probably naughtier than lads. Just because feminists don't enjoy it doesn't mean other women don't.'
And he rather predictably claimed that political correctness was going mad.
'People say I'm bringing it back to the dark ages, back to Chubby Brown,'he said. 'But maybe it's not that we're stepping back into the dark ages, maybe it's that the UK is becoming too PC.'
'If you don't like a comedian, don't go and watch him… There's things I wouldn't speak about. I'd never be racist. And I've never, actually, written a joke about rape. I don't find it funny. My family's been affected by sexual violence – that's something we've had to go through.
'But if someone does find it funny, then fair play to them. I believe that comedy is a place where you should be able to speak freely, and to speak openly about what you want.'
His comments come days after he said that furore around his laddish humour cost him more than £100,000 in lost tour income, blaming the media for 'stirring up' outrage from 'rape crisis groups and feminists.'
O'Reilly told Radio 5 Live on Sunday night: 'Fifteen thousand people watched me perform last year, and I didn't receive one complaint from anyone that saw it live, so it's completely blown out of proportion'.
Published: 7 Oct 2015
What do you think?