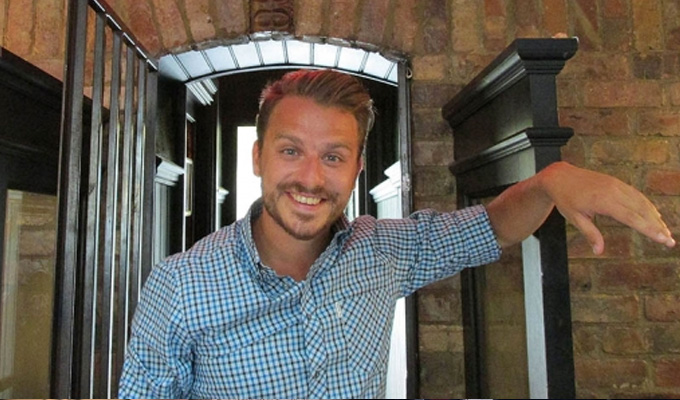 Dapper Laughs to make a movie
Dapper Laughs is to make his film debut, starring in a comedy-horror described as 'The Inbetweeners meets Lesbian Vampire Killers'.
In Fanged Up, the controversial comic, real name Daniel O'Reilly, plays a wrongfully arrested man imprisoned in a high-security foreign prison just as it is overrun by sexy female vampires.
Directed by his regular co-prankster on Vine, Nick Nevern, who also plays his mad Russian cellmate, the 'unlikely hero combination' must fight their way out to survive.
His character is not Dapper Laughs but 'will have the same type of humour that we all hopefully love about Dapper' says producer Jonathan Sothcott.
'We had him in with a load of actors to do a table read of the script and he was fantastic. He's got bags and bags of charisma which is half the battle and I think he'll be really good.'
The film, which will be shot in and around London in February, to be released later in 2016, 'pays homage to all those 1980s B-movies like Fright Night and The Lost Boys, all those silly vampire movies' explains Sothcott. 'It's a little bit like Lesbian Vampire Killers but better, obviously'.
James Corden and Matthew Horne's 2009 post-Gavin and Stacey big screen collaboration was widely trashed by reviewers and subsequently described 'a pile of shit' and too harsh a punishment for Guantanamo Bay prisoners by Corden himself.
Fanged Up is being produced by Sothcott and Terry Stone for Gateway Films and Hereford Films, whose previous productions include the urban spoof Anuvahood.
On his decision to cast O'Reilly, Sothcott adds: 'I think he had a bad year. He's been a friend of mine for a long time and I know he's a really good guy. I've seen in the past how things can get misinterpreted in the press. He's got a heart of gold. He won't bring baggage, but audiences we haven't found yet.'
O'Reilly revived Dapper Laughs at Christmas for a live tour and a forthcoming DVD, despite saying he had been killed off when the outcry over his sexist behaviour reach a peak with the charge he normalised 'rape culture'.
- by Jay Richardson
Published: 29 Sep 2015
What do you think?