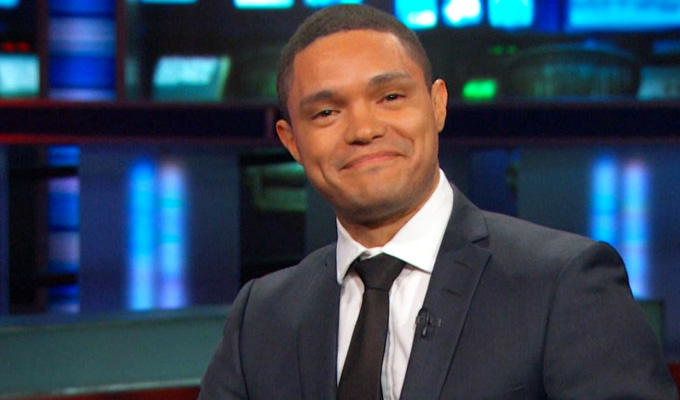 Watch Trevor Noah's Daily Show debut
Trevor Noah hosted his first Daily Show last night, telling viewers: 'I can only assume this is as strange for you as it is for me'.
However critics were lukewarm about the debut – even though most acknowledged it would take more than one episode for the South African to make the show his own after Jon Stewart's 16-year tenure.
The Daily Telegraph damned with faint praise calling him 'slick, affectionate and mildly amusing; and adding: 'Noah's debut was less the commencement of a new regime than it was the arrival of a scrupulously courteous houseguest making sure everyone knows he's going to take the best possible care of the old place.'
The idea of 'business as usual' was repeated in many reviews. The Hollywood Reporter said: 'The best and most honest thing you can say about Monday's premiere is, "He didn't break it." He also didn't try to.'
Variety said: 'there was clearly scant interest in reinventing the wheel,' but praised Noah's ease behind the desk. Meanwhile USA Today said the episode was 'a less than spectacular debut'
Aside from a self-deprecating opening section that has been months in the writing, the Guardian decided that 'too often [the jokes] failed to hit their mark' – and was especially critical of the 'toothless and unironic interview with the comedian Kevin Hart' which closed the show.
However some reviewers were more impressed. The Wrap said Noah's debut was 'a perfect mix of funny and poignant remarks. The South African comic charmed, scored belly laughs and paid homage to his predecessor with just his few minutes on the air.'
In that opening monologue, Noah said how honoured he was to get the job, saying: 'First if all this is surreal for me. I'm not gonna lie. Growing up on the streets of South Africa I never dreamed that I would have two things, really: an indoor toilet and a job as host of The Daily Show. Now I have both and I'm quite comfortable with one of them.'
Paying tribute to his predecessor, he added: 'Jon Stewart was more than a late-night host, he was often our voice, our refuge, and in many ways our political dad. And it's weird because dad has left. Now it feels like the family has a new stepdad. And he's black. Which is not ideal.'
Noah admitted that other people had been approached for the job, but declined, joking: 'So now a job Americans rejected is now being done by an immigrant.'
And before moving on his continuation of 'the war on bullshit'. Noah thanked Stewart for believing in him and vowed to work hard to ensure his predecessor doesn't end up looking like 'the crazy old dude who left his inheritance to some random kid from Africa.'
One change that has been made in the new era is in the opening credits. In a move that will delight pedants, the animated Earth is now spinning in the right direction.
Below is Noah's monologue and first section, on the Pope's visit to America. The full opening episode will air in the UK on Comedy Central at 11pm tomorrow:
Published: 29 Sep 2015
What do you think?