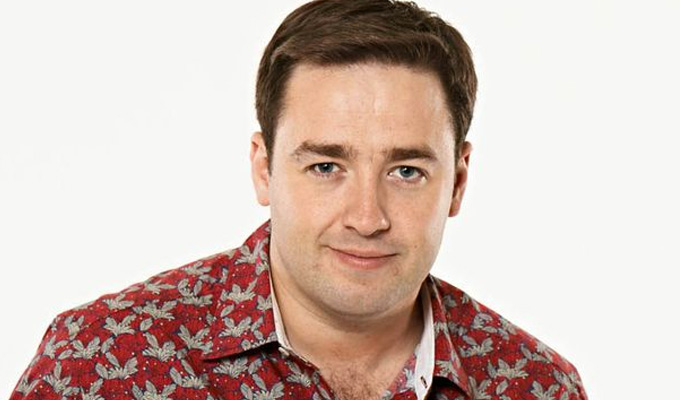 Jason Manford brands Dragons' Den as 'patronising'
Jason Manford has taken a pop at Dragons' Den as he launched his own TV investment show.
The comic said the BBC Two show was based on 'multimillionaires patronising real people who have invested their heart and soul into shit ideas'.
And he said the balance of power on the rival show meant it had 'a feel of "please sir can we have some more?".'
He was speaking at a UKTV Live event in London to launch his new Dave show, Money Pit, which the broadcaster called 'Dragons' Den meets crowd funding'.
However Manford said: 'We banned the comparison with Dragons' Den where we were filming. It's more got a feel of Gogglebox and Deal Or No Deal in that it's real people investing in real people.'
He said Money Pit's investors were self-made business people, all 'genuine' about making money: 'They're not looking down at [the people with ideas], they're looking across. They remember being in the same situation of needing someone to get behind them.'
He added that the most unusual pitch was a man who 'would cast your anus in chocolate. It was very specific. Apparently your bumhole is like your fingerprint. They are like little chocolate snowflakes.'
Manford said he was pleased to do the show because it involved real people – as opposed to most the TV ideas he was offered.
'They always say, "It's you and a panel of celebs" - zzzzzz. But this is real people. I spend most of my year doing stand-up and talking to real people, and I enjoy that.
'I'm always very friendly when I talk to the front row it's not "you're fat, you're ugly, you're bald" – to me, that's a breach of contract.'
He added: 'There should be more actual, normal people on TV. You don't see anyone with no teeth any more.'
And he added that Money Pit was a breeze to make compared to his last job, which he felt was the subject of too much scrutiny from network executives.
In what's thought to be a reference to It's A Funny Old Week, he said: 'I've just finished a comedy show for ITV, and it was very hard to do. There was a lot of involvement from execs.'
The Money Pit starts on Dave in October.
Published: 8 Sep 2015
What do you think?