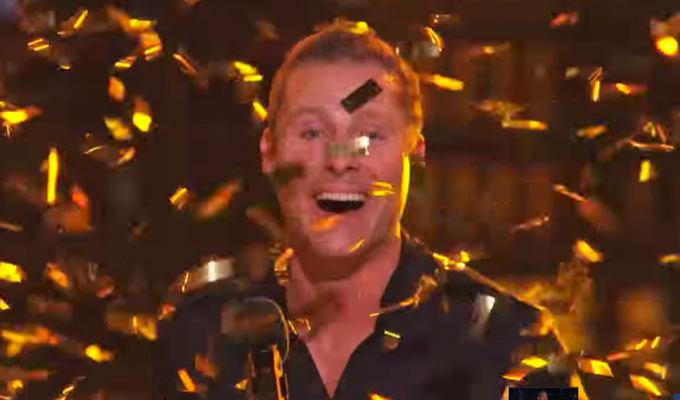 Paul Zerdin wows America's Got Talent
Comedy ventriloquist Paul Zerdin has become the second British entertainer to progress on America's Got Talent, thanks to a 'golden buzzer' intervention.
Guest judge Marlon Wayans put the 42-year-old though to the live rounds after being impressed with a routine Zerdin performed with his puppet of a baby.
'It was wonderfully orchestrated; the joke-telling was great and you made a grown man feel like he was a kid. I just felt myself laughing and I felt joy and I want that everybody to feel that joy,' Wayans said.
He added: 'I love comedy, and I love you so…' and hit the buzzer.
Zerdin's success coms two weeks after Piff The Magic Dragon and performing chihuahua Mr Piffles got through to the next rounds in the same way, thanks to guest judge Neil Patrick Harris.
Wayans was not the only judge impressed with Zerdin, who got a unanimous thumbs-up from the panel after telling his puppet a story of Little Red Riding Hood and a 'fluffy yellow duck'.
Heidi Klum said: 'I think that your material is really really clever and you really make it feel like there are two people on the stage.'
Howie Mandel, who had been the butt of jokes about how he looked like the baby, praised Zerdin's 'big family act'.
And Howard Stern said: 'You're a cartoon come to life. I really felt I was watching a great cartoon. You and this baby and this dialogue – you are going to be a main contender. I don't think there is anybody sitting in this room right now who doesn't believe you are not going to be in the top five. That's such a talent. What a gift you have.'
After being covered in the golden confetti to indicate his success, Zerdin said: 'For once I'm speechless.'
America's Got Talent attracts audiences of more than 10 million, so the exposure will be doing no harm to his Stateside career.
The live shows will be held in Radio City over 12 nights from August 11 to September 16.
Here's Zerdin's appearance:
Published: 30 Jul 2015
What do you think?