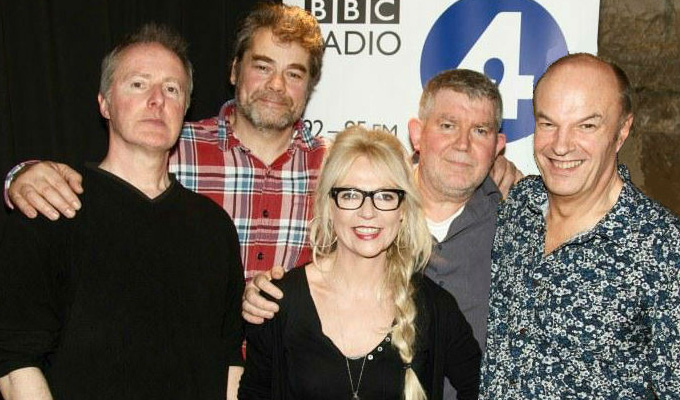 Absolutely back for a full series
Cult sketch team Absolutely are reuniting for their first radio series.
The group are recording four new episodes for Radio 4 to air from September 6, following the success of their 2013 reunion on the channel's Sketchorama show.
Gordon Kennedy, Morwenna Banks, Pete Baikie, Moray Hunter and John Sparkes will perform new material featuring popular characters from their Channel 4 heyday, including Calum, Denzil and Gwynedd, The Little Girl and the Stoneybridge Town Council.
However, Jack Docherty will not be rejoining his former castmates for the new 30-minute shows, which are being recorded at Glasgow's Oran Mor on August 5 and September 6.
The predominantly Scottish group are promising 'something old (us), something new (the sketches), nothing borrowed (as far as we know) and nothing blue (although some of it is quite surprisingly rude)'.
Their Sketchorama reunion won a BBC audio drama award for best live scripted comedy, and prompted a follow-up episode with unused material from the recording.
The new series is being produced by The Comedy Unit with Absolutely Productions, whose recent forays into radio include a second series for Sparkes's revived bedsit poet character Siadwel on BBC Radio Wales, 25 years after his first appearance on TV's Naked Video, and stand-up Bennett Aaron's mini-series Jewelsh for the same channel.
Executive producer Gus Beattie said: 'The Absolutely team did an amazing job updating their much-loved characters for the Sketchorama show, so I'm delighted to be involved in bringing a brand new Absolutely series to Radio 4.'
Absolutely ran for 28 episodes and four series on Channel 4 between 1989 and 1993, until Kennedy was appointed host of the National Lottery Show and the group agreed to disband.
It spawned two short-lived spinoffs, the sitcom Mr Don & Mr George on Channel 4 featuring Hunter and Docherty, and the pilot for a BBC Two series, Mac, featuring Docherty as McGlashen, an unhinged Scottish nationalist.
Tickets for the radio recordings are available from Published: 15 Jul 2015
What do you think?