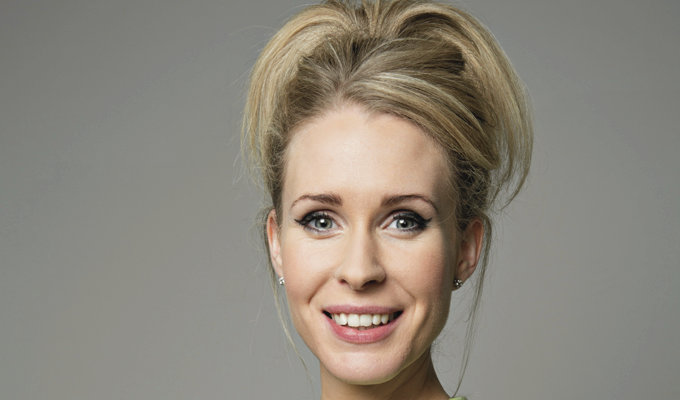 Funny on 4...
Radio 4 has confirmed a batch of new comedy shows to air this autumn.
They include the first sitcoms from former BBC New Comedy Award winner Lucy Beaumont and News Quiz regular Susan Calman.
Nick Helm has joined the cast of Calman's show, Sisters, as the next-door neighbour of a pair of ill-matched siblings. Extras star Ashley Jensen plays a solicitor while Calman is her irritating younger sister who describes herself as a 'writer/life coach/eccentric'.
The four-part show, which airs from August, is said to be based on former lawyer Calman's own relationship with her older sister.
Meanwhile Beaumont's debut five-part sitcom, To Hull And Back, is set to debut in October.
The comic, pictured, plays Sophie, who still lives at home with her mum, a junk hoarder played by Maureen Lipman, in Hull. Sophie dreams of moving to London to start a new life and a new career, but 'leaving her mum may be harder than she'd anticipated'.
Also confirmed is Robert Newman's Entirely Accurate Encyclopaedia Of Evolution, a four-part series based on the comic's recent live show in which he challenges notions of 'survival of the fittest' and the 'selfish gene.' It will be Newman's first new radio series in over two decades and co-stars Claire Price, who played DS Siobhan Clarke in Rebus, with Woman's Hour presenter Jenni Murray as the voice of the Encyclopaedia.
Cabin Pressure creator John Finnemore is also returning to the station with six new stand-alone half-hour comedies.
The show, which has the working title The John Finnemore Project, features a different cast for each episode.
Premises include hot-desking office workers attempting to conduct a romance at the rate of four minutes a day, explorers seeking Australia's fabled Great Inland Sea, a charming burglar and the worst teacher of English Conversation in contemporary Germany.
Finnemore – who is one of the speakers on the writing panel at the Chortle Conference next week – said: 'If there's one thing they all have in common… I'll be very surprised. And a bit annoyed.'
Finally Radio 4 has confirmed that Shush!, the library-set sitcom from Rebecca Front and Morwenna Banks, will start its four-week run on September 18.
The show also stars Ben Willbond and Michael Fenton-Stevens.
Published: 30 Jun 2015
Recent News
What do you think?