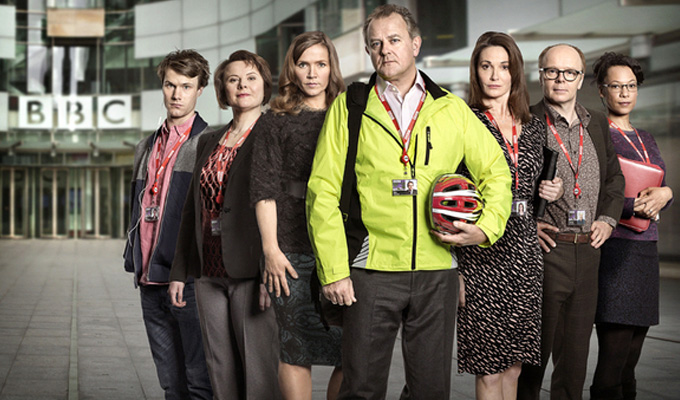 It's like something out of W1A
• 'Almost all reviews are horrible,' Ben Elton. (Well, maybe they are if you're Ben Elton, creator of The Wright Way…)
• The Big Bang Theory has set up an academic scholarship in its name. Low-income students studying science, technology, engineering or maths subjects at UCLA in California can apply for a share of the $4 million fund, paid for by the cast, producers and sponsors of the hit sitcom. The actors can certainly afford it: The main stars have signed a deal $1 million per episode for the next three seasons - expected to total 72 episodes.
• Of course no one could possibly have predicted that Fifa was corrupt. Here's the Simpsons from March last year:

• Anyone who's played Call Of Duty knows that the world's most bloody conflicts make for awesome video games. So now comic James Veitch presents Cowgateheadgate: The Game. Click to play.
•
Now you can have your very own Tina Fey and Amy Poehler action figures! Following hot on the news that many Seinfeld characters have been made into figures, reported in this very column earlier this month, toy company Entertainment Earth has announced that it is making 2,400 of the 3.5-inch likenesses of the comedians. And it comes with a fold-out diorama of the Weekend Update newsdesk the pair sat behind when they were on Saturday Night Live. They will be launched at the San Diego Comic-Con in July.
• Hat-tip to the Media Blog for the latest cliche to run wild across the Beeb-bashing right-wing press this week:
'Some have likened the decision to the BBC's own spoof comedy W1A,' The Telegraph
'Sounds like a story line from the BBC's own spoof comedy W1A' Daily Mail
'Straight out of the BBC's own, self-parodying series W1A' Richard Littlejohn in the Daily Mail (rumoured to be paid around £1m a year for such insight).
'The BBC has aped its own mockumentary W1A' Daily Express.
'A move which could have come from a plot line to comedy show W1A' The Daily Mail.
'Critics likened the spend to something out of W1A,' The Daily Mail (and to think they criticise the BBC for repeats).

• A South Korean comedian has been arrested after giving a blow job to sleeping man in sauna. 'Baek Jae Hyun said that he is not gay and this was only a mistake he made while intoxicated,' police told reporters.
• The owner of The Stand comedy clubs, Tommy Sheppard, made his maiden speech in the Commons yesterday after being elected as the SNP's MP for Edinburgh East. Here it is:

• How much does Rob Delaney like doing stand-up? 'It's better than masturbation,' he says, 'and I love to masturbate.'
• Tweets Of The Week

I've applied to join Echo Club, but I haven't heard back yet.

— Paul Eggleston (@pauleggleston) May 23, 2015
Opening ceremony Qatar 2022: 3,000 coffins dancing around a golden statue of Sepp Blatter pissing on a spinning globe. Sponsored by Adidas.

— Danny Baker (@prodnose) May 28, 2015
Young lady, are you the latest novel by Mr Dickens? I ask because, although you look most impressive, I fear I may not have time for you.

— Tom Freeman (@SnoozeInBrief) May 28, 2015
Published: 29 May 2015
Recent News
What do you think?