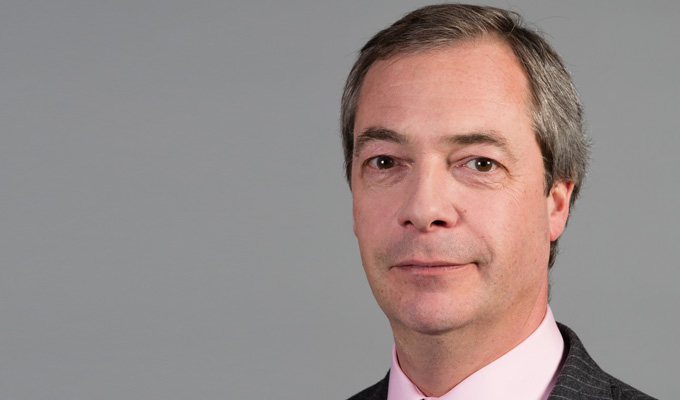 Ukip reports HIGNFY to police
Ukip have reported Have I Got News For You to police over a comment made about Nigel Farage.
The party claimed that the comedy show might have unfairly damaged the leader's chances of getting elected – in their view, breaking election law.
The complaint arose from last Friday's edition when journalist Camilla Long spoke about visiting Farage's constituency of South Thanet in Kent.
'I went there more than Nigel Farage,' she said. 'By the time I arrived there he'd only been a few times.'
UKIP advisor Raheem Kassam said: 'Camilla Long made false statements about a candidate at this election. The BBC chose to air it. If this isn't a breach of Section 106 of the Representation of People Act then we don't know what is.'
The law says it is illegal to make a "false statement of fact in relation to the candidate's personal character or conduct" before or during an election.
When asked by Ian Hislop whether she thought Ukip would win the seat, Long replied: 'I don't think they are… I don't think he's going to get a seat at all.'
Kent Police confirmed they received a complaint – but said they would not be launching an investigation.
A spokesman told Chortle: 'Kent Police received a complaint regarding comments made on a television broadcast last week. It was suggested that the comments breached the Representation of the People Act. The matter has been reviewed by officers but there's no evidence of any offences and there will be no further action.'
The BBC said: 'Britain has a proud tradition of satire, and everyone knows that the contributors on Have I Got News for You regularly make jokes at the expense of politicians of all parties.'
Comments about Farage came after 13 minutes of mocking the Tories, Labour, Lib Dem and SNP campaigns.
Speaking to Nick Ferrari on LBC today, Farage called BBC of being 'guilty of blatant prejudice'.
He said: 'We have complained like hell. We've written a number of letters to them. We were less than impressed by the audience they produced for the Challengers' Debate… where there was an openly hostile audience.
'Time and again, we see the BBC treating us in a way that is really quite extraordinary.
"Even through to a programme on Have I Got News For You last week where comments were made about an individual in a constituency, namely me, that I just don't think would have been said about any other candidate in the country.'
Published: 30 Apr 2015
What do you think?