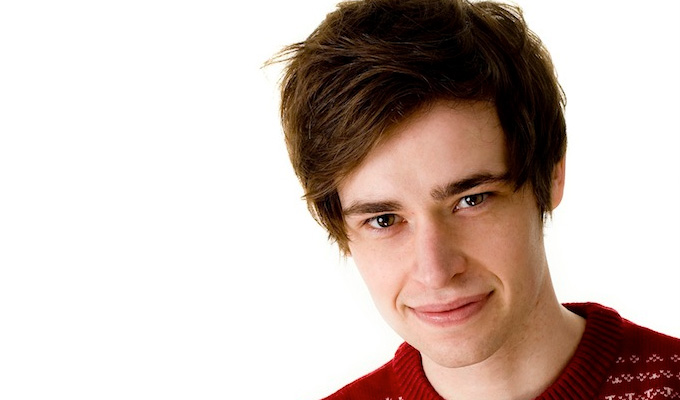 Comedian throttled by 'homophobic' heckler
Comedian Brennan Reece as been throttled by a front-row heckler who made seemingly homophobic remarks.
The man pulled Reece from the stage, shoved the comic on to his back and started choking him after reacting oddly to Reece's banter at the Roaring Laughter club in Northwich, Cheshire.
Reece kept cracking jokes until the man, who was in his late 60s, eventually released his grip and was calmed down by his friends.
The comic, who has also appeared in Channel 4's Hollyoaks, told Chortle that the attack at Witton Albion Football Club on Friday, was 'a bit of a blur'.
He said: 'I had a bit of a chat with the bloke, but it didn't seem like he could take a joke – especially when he snapped a bit and just said, "Just move on mate", so I did.
'Then a minute or so later I was in the middle of another bit, and he comes out quite annoyed with something like, "You're probably gay". 'So obviously I thought I should address it, and leant over to him.
'The next thing I know I am laid on my back on the table, with a man over me, and he was choking me, and saying something about "You can take or or you can give it, which way would you like it?"
'It was all a bit of a blur. People didn't really help I don't think, someone might have said "stop it Dave" or whatever his name was…someone definitely filmed it. But all I remember thinking was, people have paid at least a tenner for this so you better just carry on doing your jokes or you might booked again, so I held the mic to my mouth and carried on mid-choke…'
Reece says his attacker finally gave up, and was calmed down by his friends.
'I didn't really know what to do, but I thought I should probably do my time, so I did about another 15 minutes. I couldn't quite leave it alone, so kept going back to him, which he wasn't a fan of, but he had choked me, so it wasn't going to get any worse. He looked rather embarrassed and dead annoyed. It was a funny expression he had anyway…'
Reece said that venue staff had a word with the man after the incident – but didn't ask him to leave – and that the bar staff gave him a bottle of red wine by way of apology.
The comedian – who is straight – added his assailant approached him after the show and said: 'OK, I am going to apologise, but first here are a few reasons why you were in the wrong…' 'So I told him to go away,' Reece said.
Promoter Noel Gallagher of Roaring Laughter said he has passed footage of the incident to police.
He said: 'This was an absolute one in a million situation and don't want acts thinking our club is like some sort of backstreet place where they may be attacked. 
'Watching it back I would use the word "attacked" rather loosely. Brennan wasn't struck. However the punter clearly overstepped the mark and has been barred. We are only a small rural venue so don't have door staff… but without caging the stage off you can't mitigate for drunk idiots.'
Here is the incident:
Published: 29 Apr 2015
What do you think?