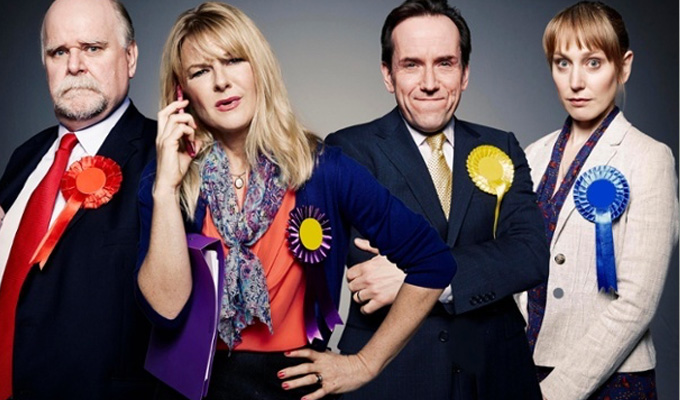 C4 orders 'real time' election comedy
Channel 4 is to air an up-to-the-minute sitcom about the General Election, incorporating real-life events from the campaign.
Ballot Monkeys comes from Drop The Dead Donkey creators Andy Hamilton and Guy Jenkin – and like their Nineties comedy will be written right up to the last minute.
Ben Miller, Hugh Dennis and Miranda's Sarah Hadland lead a cast that also includes Kathleen Rose Perkins, Hattie Morahan, Andy Nyman, Esther Smith and Rhashan Stone.
The five half-hour episodes will intercut between the campaign buses of the Conservatives, Labour, Liberal Democrats and Ukip as they 'crisis manage the latest dramas and developments' from the news.
Filming for the series, made by Hat Trick, will begin one week before transmission.
In a statement, Andy Hamilton and Guy Jenkin, who also created Outnumbered, said: 'We're very excited about this. We don't think anyone's done anything like this before, although we may find out why.'
And Channel 4 comedy's commissioning editor Fiona McDermott, added: 'We haven't yet decided whether we're brave or bonkers but a real time satirical sitcom like Ballot Monkeys could only be handled by the remarkable Andy Hamilton and Guy Jenkin. We are thrilled to have them and such an amazing cast on board our buses.'
Published: 8 Apr 2015
Recent News
What do you think?