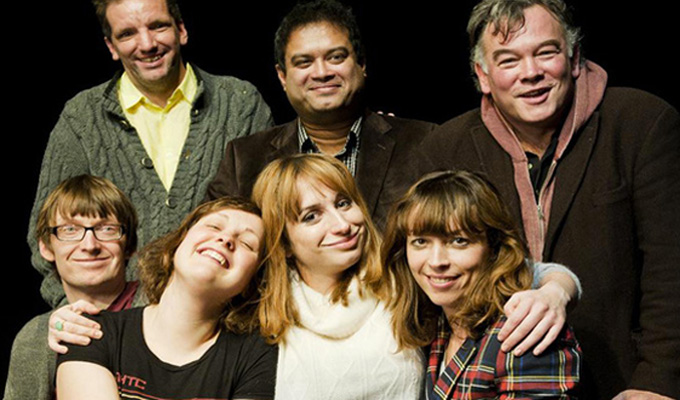 Alternative Comedy Experience axed
The Alternative Comedy Experience has been cancelled says Stewart Lee.
Lee – who curates and interviews the offbeat stand-ups who appear on the Comedy Central showcase – confirmed that it will not be returning for a third series.
Speaking to Jarlath Regan on his Irishman Abroad podcast, Lee said: 'It's not been recommissioned, which is a bloody shame, because we got loads of really good footage of people who are not normally filmed.'
The show, which was recorded at the Stand in Edinburgh, featured comics including Tony Law, David O'Doherty, Josie Long, Simon Munnery, Bridget Christie, Glenn Wool, Paul Sinha, Paul Foot, Isy Suttie, Henning Wehn, Robin Ince and Phil Nichol.
Colin Dench, the creator and producer of the show, confirmed to Chortle:  'It's true the show won't be returning to Comedy Central in its current form.    
'We had great fun with both series and achieved what we set out to do.  Stewart and I will  develop the format and hopefully do something along similar lines in the future.'
Lee added that once Comedy Central had 'got off our back in the first series of worrying about whether [the acts] were known', he felt he had a 'brilliant' problem curating the line-ups because there are so many great so-called alternative acts, 'that aren't in the world of the people from the two main comedy agencies [Avalon and Off The Kerb], who get on everything'
Since Alternative Comedy Experience first aired in 2013, the only footage of Lee on the show has been him interviewing the other comedians backstage at the Stand.
He did film material as his character Baconface, but like sets by Alfie Brown and Andrew Lawrence, this did not make it to air.
And he reiterated that 'I had to really fight Comedy Central to not put my name in the title and they kept trying to sneak it in'.
Responding to Regan's suggestion that he had been a 'kingmaker' for the other comics' careers, Lee recalled an interview given to the Guardian last year by Sam Delaney, editor in chief of Comedy Central's digital output, in which he said: 'There's nothing wrong with cynical, clever Stewart Lee-type comedy but it's not the sort of thing that young people are sharing in their millions online.'
Laughing, Lee said: 'So on the one hand, it's sort of "Oh, you're the kingmaker". But of what? Of something the channel it's on don't even want!'
Elsewhere in the interview, he revealed that he was turned away from the VIP bar of Jerry Springer: The Opera opening night in London's West End because a theatre usher didn't believe he was the show's director.
He also strongly criticised bigger comedy agencies for 'bankrupting' their acts performing at Edinburgh, and predicted that comedy's 'Big Management' will 'infect' the Free Fringe this year by pushing their acts to appear on it and try to monetise it.
The comic, who was adopted, also told Regan that while researching his family tree, he legitimately believed himself to be the 15th Marquis of Tweeddale, heir to a £4million estate in East Lothian, of which the only interested buyer was Lady Gaga.
A factual error in the research subsequently negated that claim. But for 'about a week' he had believed it to be true and felt 'very disorientated'.
'Obviously, I'm quite a chippy sort of person, I define myself in opposition to that kind of thing' he said. 'To suddenly find that you are part of the aristocracy would be quite a weird thing.'
-by Jay Richardson
Published: 9 Mar 2015
What do you think?