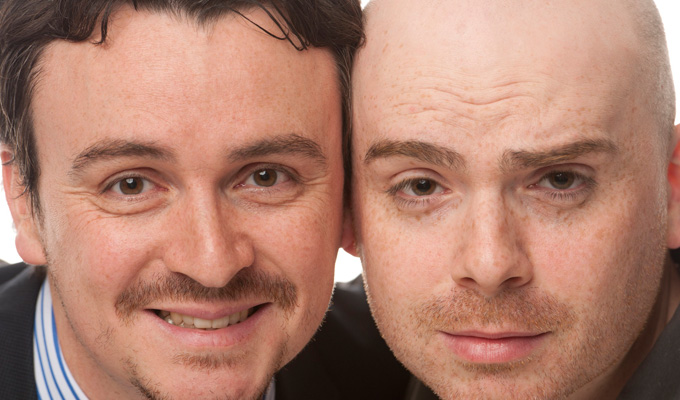 Burnistoun's back
Scottish sketch show Burnistoun is to return for the first time in almost three years, for a one-off special.
The one-off, for BBC One Scotland, is set over one Saturday night in the fictional town of Burnistoun. Written by and starring Robert Florence and Iain Connell,the one -off – which starts filming soon – will feature new characters joining familiar faces.
The news comes as the pair prepare to make their first live appearance as their on-screen alter-egos at the Glasgow Comedy festival next month. They were last seen on screen in September 2012.
BBC Scotland has also confirmed production of a number of previously announced comedy projects, including Two Doors Down, Scot Squad, Stop/Start and Mountain Goats.
Two Doors Down is to become a six-part series for BBC Two both north and south of the border following the success of a one-off that aired across the network on Hogmanay last year
The hour-long pilot episode, whose cast included Daniela Nardini, Greg McHugh, Doon Mackichan, Arabella Weir was set in a house party in Paisley on New Year's Eve and attracted more than three million viewers.
Written by Gregor Sharp and Simon Carlyle, the new series will be filmed in the autumn on location in Glasgow and at BBC Scotland's Dumbarton studios. It is expected to air in early 2016.
As originally announced last summer, Mountain Goats, about volunteer Highland rescuers, is becoming a six-part BBC One series after the success of a broadcast pilot (called Miller's Mountain). Filming starts next month.
Police comedy Scot Squad starts filming its second six-part series on BBC One Scotland in the summer; while Chortle has already revealed that Jack Docherty's Radio 4 sitcom Start/Stop is to make the move to TV with a pilot for BBC One.
Finally, the young writing team from last year's one-off special What's Funny about the Indyref? are making a 30-minute pilot sketch show for BBC One Scotland called What's Funny about Leaving Home?
BBC Scotland's commissioning editor Ewan Angus said: 'This fantastic range of programmes highlights the quality of comedy talent in Scotland. Developing comedy writing, production and performance is one of BBC Scotland's priorities and it's great news that we have so much to offer our audiences in the coming months.'
Published: 26 Feb 2015
Recent News
What do you think?