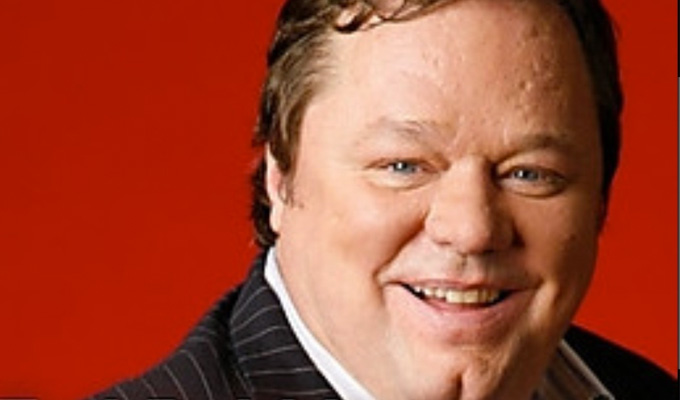 Ted Robbins collapses at Phoenix Nights
Veteran comic Ted Robbins collapsed on stage during Peter Kay's Phoenix Nights revival show tonight.
Reports say the 59-year-old was the middle of a solo performance show and appeared to clutch his chest before collapsing.
The show was drawn to a close and the Manchester Arena audience told the rest of the performance was cancelled.
Co-star Justin Moorhouse, who plays Young Kenny, told the crowd: 'We are very sorry. This is not part of the show. I'm afraid we're going to have to postpone the show tonight as obviously we have important things to do.'
One audience member told Chortle: 'Ted Robbins collapsed mid-speech. We all thought it was part of the act, so no one did anything. Then the curtain fell and medics came, but people were still laughing. Then the family rushed to the stage, screaming, "No". It was awful.'
The venue later said Robbins had been taken by ambulance to hospital and was in a stable condition.
Steve Ryde, who produced The Slammer, said via Twitter: 'Latest we've heard is that he's sitting up and talking. I'm sure he's in the best possible hands.'
As well as being a comic, Robbins is a panto star, BBC Radio Lancashire presenter and celebrated warm-up man. He played Victor St James in Benidorm and appears in the current of Birds of a Feather revival playing Barry Quid. In Phoenix Nights he plays Den Perry, the arch rival of Kay's Brian Potter, who burned down the Phoenx Club.
Manchester United player Phil Jones was among those in the audience. He tweeted: 'Still shocked to see Ted Robbins collapse on stage. Thoughts with him and his family.'
Jason Manford was there, too. He said: '#PhoenixNightsLive was wonderful before it had to suddenly stop. Thoughts are with the legendary Ted Robbins & his family.Get well soon pal.'
Phoenix Nights has been revived for a run of 15 sold-out live gigs at the Phones 4U Arena in aid of Comic Relief.
Published: 31 Jan 2015
Recent News
What do you think?