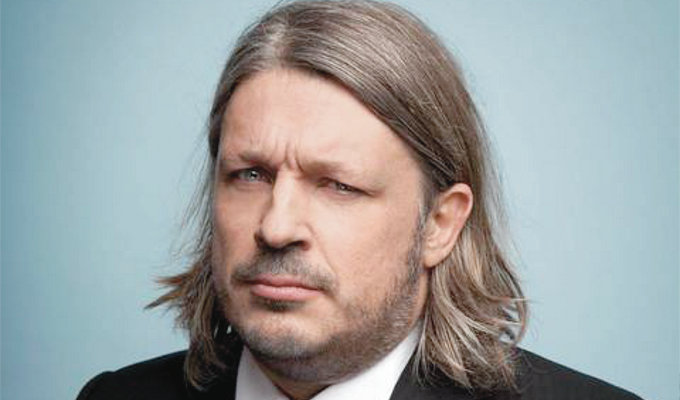 The 12 Tasks Of Herring
Richard Herring is to perform 12 different hour-long stand-up shows in six weeks.
The comedian is skipping the Edinburgh Fringe for only the third time in 24 years next summer, but will instead revive all 11 of his previous solo shows in London, with two shows every weekend.
And at the end, he plans to unveil an entirely new full-length show.
The 11 old shows, which will be performed in chronological order are: Christ On A Bike!, Talking Cock, The 12 Tasks Of Hercules Terrace, Someone Likes Yoghurt, Menage A Un, Oh Fuck I'm 40, The Headmaster's Son, Hitler Moustache, What Is Love Anyway?, We're All Going to Die! and Lord of the Dance Settee.
Herring admitted: 'It will be a challenge to relearn all the shows and work out the tech aspects of the early ones – especially Hercules, which I am not sure I have the animations for any more. But hopefully most of it will come back to me.
'I think some of the material will feel a bit weird to do, especially the angrier shows like Menage A Un, when I was in a very different personal head space, but it might be fun to address that. And to add new bits where necessary or discuss how my life has changed.'
One aspect of his life that will have changed is that in February Herring is due to become a father for the first time with his wife, fellow comedian Catie Wilkins.
He said: 'Having a baby in February is certainly one of the factors in this decision, but at last year's Fringe I found things a bit frustrating for lots of reasons. The expense involved in taking a show up is becoming impractical and I resented paying £3,000 for a month in a not luxurious flat. But I realised that for acts in the middle, who are neither new and trying stuff out, or on TV and very established, the Fringe is becoming increasingly difficult and we're all being squeezed.
'The Free Fringe is a great development allowing newer acts to go up and try stuff without losing money, and punters are bound to prefer to take a chance on that than paying £15 for someone they've not heard of. If you pay you're more likely to choose a bigger name where you know what you're getting.
'So if you want to do a bit of a bigger and more produced show it feels like the Fringe is no longer the place to be. There's too much competition, the money you have to spend on marketing and everything is too great for the likely rewards. So it seems more sensible for me (and I would say a lot of acts in my position) to do things differently. And I thought this might be a fun way to show that. And get to go and sleep in my own bed at night.'
He said the run of shows at the Leicester Square Theatre were 'a little salute to the Fringe for all that it has given me, whilst slightly giving it the finger behind my back'.
He added: 'It will be nice to have a challenge in August but not have to fear losing loads of money. I will miss the Fringe and I think it's the right choice for a lot of people, but for the time being it's no longer the right choice for me.'
Herring first performed at the Fringe in 1987 and 1988 as a student, returning in 1992, first with comedy plays and from 2001 onwards with his stand-up shows, missing only 2000 and 2003 in all that time.
As well as the revived shows in August and September (for which tickets are not yet available), Herring will be continuing his Lord of the Dance Settee tour later this year, as well as a new series of his Leicester Square Theatre Podcast planned for June and July.
Published: 1 Jan 2015
What do you think?