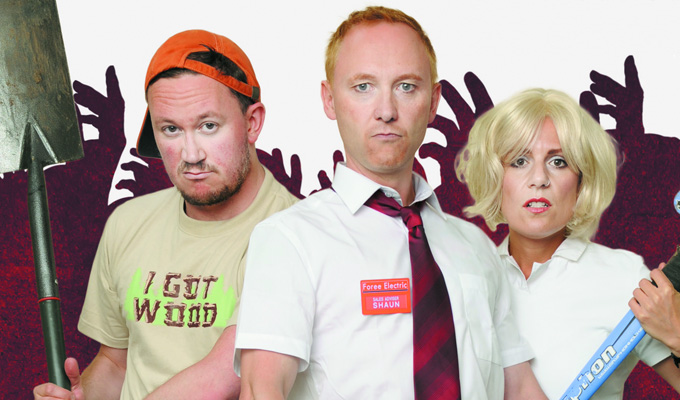 Shaun Of The Dead, the stage show
Shaun Of The Dead has been turned into a stage show, which will go on tour next year.
Simon Pegg has given his blessing to the new production, which was put together after Gloucestershire-based Almost Legal Productions secured the stage rights to his 2004 zombie rom-com.
The company has previously staged live versions of Blackadder, Carry On Screaming, Misery and The Wicker Man – and director Chas Burns says he got permission for the new show simply by asking Simon Pegg's assistant. She contacted Working Title and Universal Pictures to gain the rights on the company's behalf – and eventually they said yes.
'It helped that Simon is originally from the area and is patron of Stroud Music & Drama Academy,' said Burns. 'He lent his name last year to support the academy, to give something back.'
Chas then worked on the adaptation over six months, and staged four local preview nights in October and November – partly financed by crowdfunding.
'People threw a few quid at us and we got a few grand to build the set and also had local companies to Gloucestershire help us,' Burns said.
Just before one of the preview shows, Pegg tweeted a good-luck message to the 40-strong team involved: 'Good luck or I should say, lose a leg, to Almost Legal's production of Shaun Of The Dead Live tonight in Stroud.'
Burns said the 'Pegg bomb' raised the show's profile immeasurably. 'We had people all over the world asking us to bring it to their countries,' he said. 'The excitement was too much. Our entire cast and crew were doing their best to keep their feet on the ground.'
The 110-minute show will involve plenty of audience participation – with ticket-holders being given a 'goodie bag' of props they need to take part and encouraged to dress as zombies or other characters from the movie.
It also features music from the original film, but Burns insists: 'It's not a musical. Between you and I, I can't abide musicals. It's a production with tongue-in-cheek songs, with some extra stuff thrown in you won't see in the film and deleted scenes that were left on the cutting room floor. I have always stated that if I ever see anyone yawning at one of our productions I will call it a day.'
'It's incredible the interest we've had, people have been waiting for it to happen and we've been lucky enough to find ourselves with the rights.
'Yes we are a small company nobody has ever heard of, and some believe us to be amateur. We are often asked about our professional/amateur position and we merely answer with the same phrase every time: if you measure our professional character by the colour of money then it's a sad day for theatre.'
The show currently has 15 dates booked in for 2015, largely in the South West of England. Click here for the schedule.
Published: 29 Dec 2014
Recent News
What do you think?