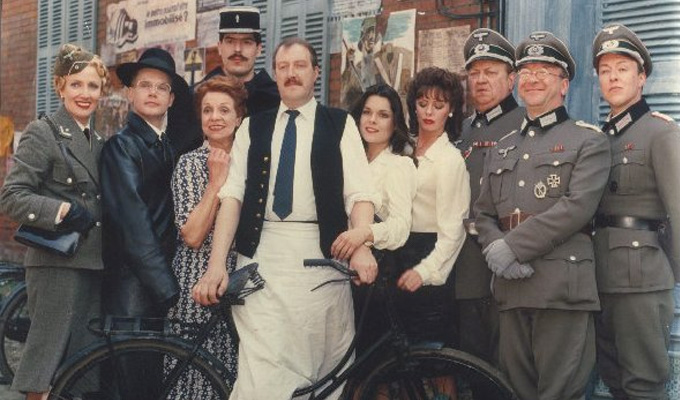 Sitcom writer Jeremy Lloyd dies at 84
Jeremy Lloyd, co-creator of BBC comedies 'Allo 'Allo! and Are You Being Served?, has died at the age of 84.
He died in hospital after being admitted for pneumonia, his agent Alexandra Cann said.
His death comes four years after his long-term writing partner David Croft passed away.
Cann said: 'Jeremy was a great wit and always a mass of original ideas. He had a wonderfully original mind and will be greatly missed.'
Among those paying tribute today were Mark Gatiss, from the League Of Gentlemen, who tweeted: 'Farewell to Jeremy Lloyd and thanks for years of naughty laughs. It would be appropriate to insert a very naughty something here. Oooh!'
Robert Ross, the writer of several books about classic British comedy, added: 'Dear Jeremy Lloyd has gone to the Great Green Room. An actor with an impeccably light touch. A writer with a flare for the bawdy. Bless him.'
Lloyd was an actor as well as a writer, making his film debut in 1960 in School For Scoundrels. He was also a regular on Rowan & Martin's Laugh-In during the 1969–70 television season, playing an archetypal upper-class Englishman, and appeared in the Beatles movies A Hard Day's Night and Help!
His first major success as a comedy writer was with Are You Being Served? in 1972, based on his time working for Simpsons of Piccadilly. A spin-off Grace & Favour, aired in 1992.
Lloyd also wrote the words for the popular Captain Beaky album and books in 1980.
Lloyd was married three times, including the actress Joanna Lumley for a short period in 1970. He was appointed an OBE in 2013 for services to comedy.
Here are Croft and Lloyd talking about the origins of Are You Being Served?
And here he is reading from Cpatian Beaky
Published: 23 Dec 2014
Recent News
What do you think?