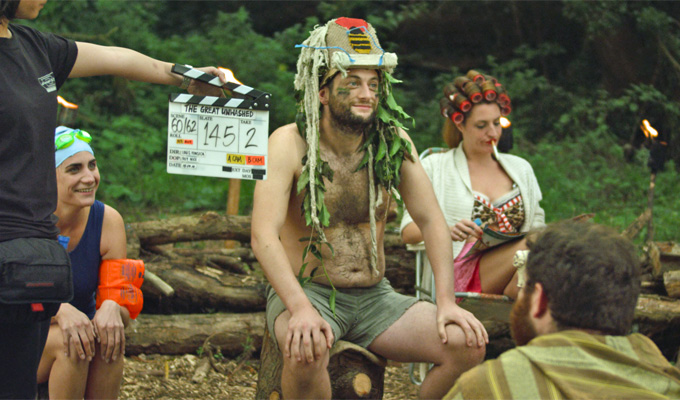 Comics star in new 'hippy' movie
Filming has just completed on a new low-budget comedy feature featuring a raft of circuit acts.
The Great Unwashed was written by Louis Fonseca and Nick Phillips, better known as the musical double act Horse & Louis, with Fonseca directing.
It revolves around a Londoner, Charlie, who is forced to seek refuge among hippies in a Welsh wood after he stumbles across 'a gang of vicious, criminal hairdressers' in the capital. However, the commune is set to be evicted, and as the gangsters close in on him, Charlie must decided whether to flee, or help the New Agers remain on the land.
The lead is played by newcomer Jonathan Pointing, but the cast has largely been drawn from the comedy circuit. It includes: Kathryn Bond and Lorna Shaw from That Pair; Nina Ludovica Smith and Libby Northedge from Twisted Loaf; Ed Eales-White and Will Hartley from Clever Peter; and character comic David McNeil.
The movie, was shot over four weeks near Abergavenny and in Kentish Town.
Fonseca said: 'We have just started post-production so have not applied to any festivals yet. We hope to have the final cut by March/April and then start our festival campaign. Our plan – or hope – is to acquire distribution through the festival circuit next year.'
The film is being produced by his sister Izzy, his partner in the new UK production company Mangoose Films.
Other appearing onscreen include BBC Wales's Mike Bubbins, Daniel Ings, who has appeared in Scrotal Recall and Uncle; Bekka Bowling (Some Girls, Episodes) and Michael Ryan (Rock N' Rolla, War Horse).
Pictured are Ed Eales-White as King Beeswax and Libby Northedge as Honeybee.
Published: 21 Dec 2014
What do you think?