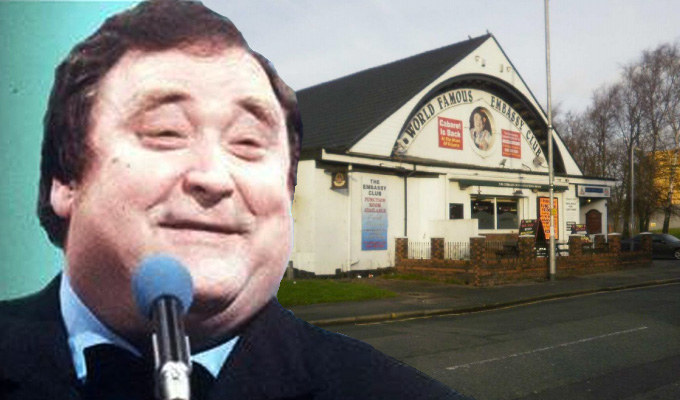 For sale: Bernard Manning's Embassy Club
Bernarnd Manning's comedy club, The Embassy, has been put up for sale.
The venue could be closed to make way for a shop or leisure development once it has been sold, according to estate agents.
Manning and his father founded the venue in the Manchester suburb of Harpurhey in 1959. It was once a major attraction for variety stars including Cilla Black and Englebert Humperdinck –  but has more recently been used for community events and private functions.
It has been owned by the comic's son, who has the same name, since 1999. Mr Manning Jr said his own children had no desire to take it over but added: 'I want to see if anybody is interested in running the club.'
He told BBC Radio Manchester: 'I think cabaret is dead but then again some people have ideas, good ideas, maybe it can be brought back in a retro sense.'
However estate agents Roger Hannah And Co seem to be marketing the 5,000-sq-ft venue for its development potential, but are not quoting a price for the property.
They said: 'Initial discussions with Manchester City Council indicate that the property would be considered suitable for retail or leisure uses, subject to the necessary consents being obtained.'
Bernard Manning Sr died in 2007 at the age of 76.
Published: 15 Dec 2014
Recent News
What do you think?