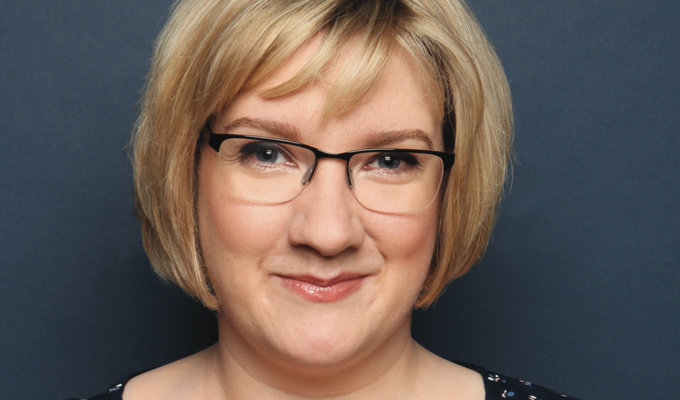 How comedy got me through my divorce
Sarah Millican has spoken of how comedy helped her cope with being dumped after seven years of marriage.
But she also said it would be unhealthy to rely solely on stand—up as a psychological cure.
'I didn't just do the comedy,' she told Kirsty Young on Radio 4's Desert Island Discs this morning. 'I wouldn't advocate. "just do comedy that'll make you better". I'm very vocal about how useful counselling can be.'
She said she was 'sort of broken' after her unexpected divorce, but got the comedy bug after attending a course for writers who had never performed.
Millican also said she had long been a film buff who always harboured ambitions to be a writer and director – but put her creative ambitions on hold while she was married as she had settled into a contented life.
'I used to write as a way out of things,' she said. 'And for two years I didn't write as I didn't have the urge. It came back hell of leather when I divorced…'
She met her first husband at a cinema where she worked on the popcorn stand, and had previously been a movie reviewer for her local newspaper in South Shields.
'I'm slightly ashamed that I used to be a critic given how not very fond of them I am now,' she said. 'I went to the cinema for four years for free and it appeared in the free paper - the one the people put down for their cat to poo on.'
She said she was especially inspired by Thelma and Louise, whose theme tune she chose as one of her discs. 'I was 16 and It absolutely blew my mind,' she said. 'I hadn't seen a film with two female protagonists before and the men were kind of incidental. It really made me want to be a film director.'
Millican recalls being 'slighlty bullied and picked on a bit' as school because she was 'quite quiet and studious. 'That doesn't get you many friends,' she said. 'I think was 12 and my maths teacher came to my birthday party. That says a lot, doesn't it?'
And she also spoke of a more modern form of bullying when she was targeted online for the dress she wore to last year's Bafta awards.
She said: 'I was thrilled to be there… [It] was so flattering. And then to be pulled apart for something so unimportant seems really odd.
'If I saw somebody wearing something and I thought, "Oh that's brave", I wouldn't go up and tell her. And that's what Twitter and Facebook are. It's tapping somebody on the shoulder and saying, "Oh you look rubbish, you shouldn't be wearing that, you're too fat for that, you're too ugly for that". Of course it hurts.'
And she said that if she was invited to the Baftas again she would wear exactly the same dress 'because the public, general, fans, nice people, realise how unimportant it is'.
Millican also remembers the difficulties of growing up during the miners' strike – including the generosity of French miners who sent Christmas gifts.
'I remember it was hard but the family was really strong,' she said. 'I remember waking up and my bed was covered in blood because my shoes were too tight and I hadn't told my family because I knew they couldn't afford new ones.'
Millican was, inevitably, asked about the quotas for female comedians on panel shows. She said it was 'really disappointing' that such a move was needed for better equality, but added: 'If that's the only way, I suppose that's the way it has to be'.
Among Millican's other record choices was We All Stand Together by Paul McCartney and the Frog Chorus – which Young said was a first for Desert Island Discs.
She played the song at her wedding this year to fellow stand-up Gary Delaney, who she met at her second ever gig.
The comic said she wanted a tune everybody could sing along to, but not a hymn as she is not religious.
'When we were planning our wedding, [Gary] started playing this, so I started to laugh. Then he said, "Listen to the lyrics" and I started to cry, so we played this at our wedding and the whole congregation sang including all the noises.'
Her other musical choices included the Superman theme as it put her into a 'can-do' mood; Wake Me Up Before You Go-Go by Wham, the first record she ever bought, and Happy by Pharrell Williams.
For her book she rather practically chose a survival manual by Bear Grylls and her luxury she asked for notebook and pens 'because writing would stop me going mad'.
However she admitted that if stranded on the island she would miss the approval of an audience. 'I had some time off this year and no one told me I was funny every day – I had to get used to that'
• Hear Sarah Millican's Desert Island Discs here. It will also be repeated at 9am next Friday on Radio 4.
Published: 14 Dec 2014
What do you think?