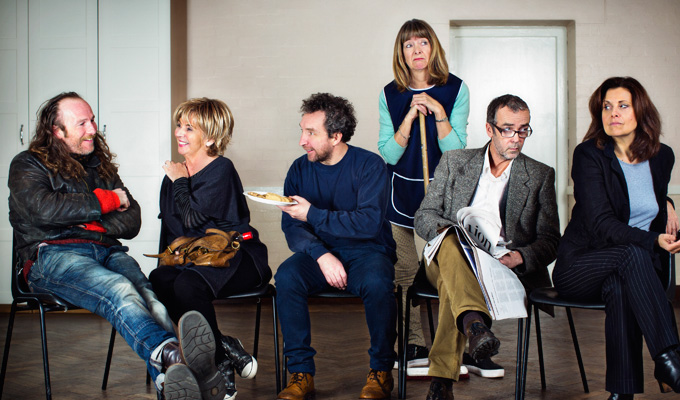 Finding comedy in AA
Rebecca Front, John Hannah and Sue Johnson are to star in a new comedy set in Alcoholics Anonymous.
The Radio 4 show Love In Recovery was written by Pete Jackson, inspired by his own experiences with alcoholism.
In the first of six quarter-hour episodes, which airs on January 7, Front plays Fiona, 'a competitive and snobby ex-banker, tries to come to terms with the fact that she might have more in common with the rest of the group than she'd like to admit'.
Also appearing over the course of the series are Dennis Pennis and Game Of Thrones actor Paul Kaye; Julia Deakin who is best known as Spaced divorcee landlady Marsha; and Eddie Marsan from Guy Ritchie's Sherlock Holmes films.
Jackson said: 'The experience of writing Love In Recovery has been sometimes joyful and cathartic, but also sometimes sad and a little difficult.
'I guess because this show's not about something imagined, or something that once happened and is now over; it's about recovery, in particular my own recovery from alcoholism, and for me recovery isn't something that ends, it was a fact of my life yesterday, it is today, and the moment I think that tomorrow will be any different I'm bang in trouble. Which is why it's wonderful to be able to walk into a room full of people and laugh about what a pain in the arse it all is.  And cry, and moan as well of course. But an AA meeting is often a surprisingly funny place to be too.   'This show isn't an exposé of AA, it's not representative of all meetings, and the characters aren't based on anyone I know or have met. It's about a disparate group of people, thrown together because of one common bond. It's about the unlikeliest of people helping, supporting, advising and caring for the unlikeliest of people. And it's about telling stories. And if there's one thing recovering alcoholics aren't short of, it's stories. 
'I wanted to write Love In Recovery because, when I was going through a tough time I found people who helped, who made me laugh, who told me stories funny enough to crack me up and sad enough to make me catch my breath. I feel very affectionate toward the whole process of AA, and I wanted to share it.'
The series has been produced by Ben Worsfield for Lucky Giant.
Published: 13 Dec 2014
What do you think?