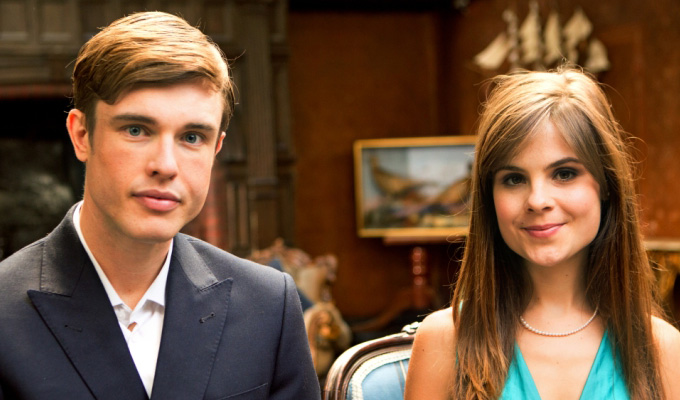 Second series for Almost Royal
Almost Royal, the BBC America mockumentary starring Ed Gamble and Amy Hoggart, is set to return for a second series .
Production resumed on the show in Miami last week, with the comedians reprising their roles as distant members of the royal family as they interact with unsuspecting Americans.
Reviews were generally favourable for the first series of the show, which was BBC America's first original comedy commission, and it was heralded as the channel's highest-rated comedy.
The series premiered with 223,000 viewers in Live+SD (same day) Nielsen ratings; and over the series it averaged 271,000 viewers on the Live+7 measure that takes into account all the on-demand views within seven days of broadcast.
However, some online reports have also described the show as 'almost invisible' in the ratings.
In Britain, Almost Royal attracted an average of 264,000 viewers per episode when it aired on E4, a 1.34 per cent audience share in its Sunday 10pm timeslot.
The show's relatively low profile in the States at least appears to be helping Gamble and Hoggart maintain their cover as siblings Georgie and Poppy Carlton.
Shooting on the second series of the show, made by Burning Bright Productions, resumed with the pair visiting a Florida beauty pageant and a dating coach who acknowledged on Twitter that he was honoured to have been 'completely and utterly pranked' by them.
The original run of seven episodes took the Carltons to Los Angeles, Boston, Texas, New York, Detroit, Washington DC and Nashville.
Hopes were raised for Almost Royal's recommission after the siblings made an appearance at the Britannia Awards in LA last month:
- by Jay Richardson
This story has been amended since its original publication to reflect accurate viewing figures.
Published: 1 Dec 2014
Recent News
What do you think?