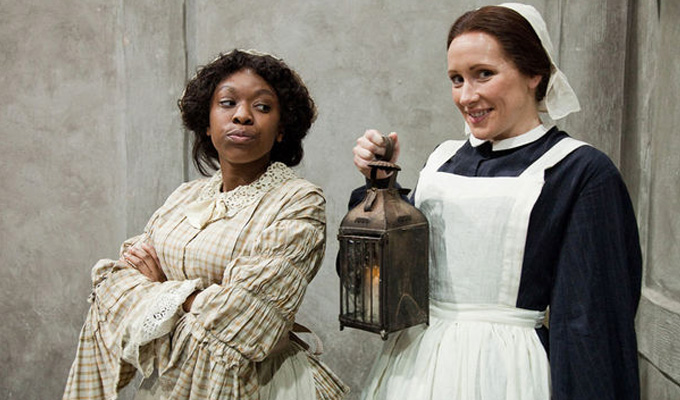 BBC pulls 'insulting' Horrible Histories sketch
The BBC has dropped a Horrible Histories sketch amid complaints it falsely portrayed Florence Nightingale as racist.
The scene, first broadcast in 2010, had the Lady With The Lamp tell Jamaican-born Mary Seacole that she couldn't join the nursing corps in the Crimean war because: 'Nursing is for British girls.'
A viewer complained the 'insulting' accusation had no basis in fact, and shouldn't have been given the endorsement of the BBC – and the issue was referred all the way up to the BBC Trust appeals committee.
Today the Trust ruled that it was inaccurate, and took the clip off the BBC's Learning Zone website. The committee explained: 'An allegation of such gravity against a person such as Nightingale required compelling proof.'
In a detailed ruling, it noted that whether racism was a factor in Seacole's rejection from the nursing corps was a matter of dispute among historians, but no conclusive proof could be found.
Responding to the ruling, a BBC spokesperson commented: 'We note and accept the findings of the editorial standards committee. The intention of this Horrible Histories sketch was never to undermine the reputation of such an important historical figure like Florence Nightingale, but to open up a discussion of some of the attitudes of the time.
'The Learning Zone has withdrawn the sketch from their website and the episode of Horrible Histories will not be repeated in its present form.'
A sixth series of the children's historical sketch show is in the works.
Here is the offending sketch:
In a separate eight-page ruling, the separately rejected the complaints of a viewer who made several lengthy calls to the BBC demanding to know why Jeremy Clarkson had nicknamed the Nissan Qashqai the Nissan Kumquat on Top Gear.
Published: 30 Sep 2014
Recent News
What do you think?