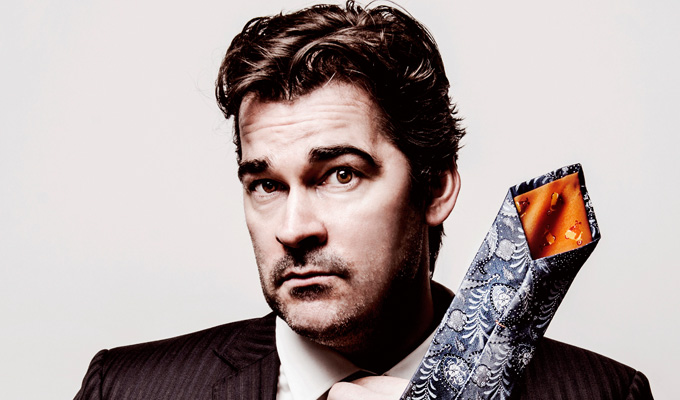 A considered opinion?
A row has erupted on the Edinburgh Fringe after a PR company threatened to withdraw free press tickets from bloggers for not showing enough respect to the comedians they are writing about.
Publicists at Mobius laid down the ultimatum after Mumble Comedy wrote a three-star review of former award-winner Adam Riches – saying that if the review was not altered or removed, they would not issue any more tickets, and spread the word to venues across the festival, too.
In return, the blog accused the company of trying to intimidate them into taking down a poor review – saying: 'We cannot be bullied out of our integrity'.
However, some changes to the review, by Mark 'Divine' Calvert, were made after Mobius first got in touch – including correcting the spelling of Riches's name.
The row is likely to spark debate over the line between established media and fans setting up an online presence in order to score free tickets.
Mumble's review as it currently stands reads as follows:
'It was a damp and wind-swept night and the welcoming warmth of the Pleasance Dome began to relaxed me into a state of mind ready for comedy. Tonight it was Adam Riches, a successful comedian with more awards that you can shake a stick at. Joining me was a capacity audience who clearly knew what we were in for. Alas I didn't. With lots of audience participation, Adam humiliated his carefully chosen audience members who were middle class and loving every moment of it. Adam utilises different characters drawn from history, all of whom had a Yorkshire accent, which is a star point in itself. Taking his lead from vintage comedy telly, Adam was silly, pointless and yes, good fun. Which is just what his audience wanted. If you like trashy throw-away telly. Adam's your man. Two Stars and one extra for being from Yorkshire. So That's Three. Stars.'
Riches was was born in Cambridge, and raised in Glasgow and London – not Yorkshire. Although his opening character, Sean Bean, is from there.
Mumble Comedy's 'CEO', Damo Bullen revealed the pressure from Mobius in a message beneath the review, accusing them of 'chucking their toys out the pram & ask[ing] me to take it down'.
He refused saying: 'Everyone's entitled to their opinion & that Mark simply could not get into the comedy of Mr Riches.. The Mumble is an honest website, designed to help would-be show-goers make an informed choice. We cannot be bullied out of our integrity.'
Despite Bullen's defiance, Dan Pursey from Mobius said the review HAD been changed since it first appeared – although Bullen insists any changes were 'cosmetic'.
Pursey said: 'The original review also contained some very odd references that, apart from anything else, gave the impression our client's work hadn't been met with the respect, care and attention it deserved.  These have since been removed. '
'We really do support and encourage new titles, websites and critics and like to offer them access to write about our clients' work where we can. We also totally acknowledge that everyone is of course entitled to their own opinion.  
'But when we initially (very diplomatically) expressed our concerns the site representative was quite uncooperative, and my worry was that this could be an attitude that stretched across the site. I'm sure it isn't, but had there been more evidence of care, I wouldn't have had to push quite so hard to get them to pay attention.'
It's understood that after the original contact from Mobius the sentences 'Taking his lead from vintage comedy telly' to 'Adam's your man.' were added, and references to the critic's urge to go home and 'listen to his Tricky CD', and spend more time in his leopard print pyjamas with a large mug of tea were removed.
Speaking to Chortle, Bullen added: 'Do you know what annoyed me the most - it was his brash, aggressive condescending attitude that wanted to sink my ship when a lot of people - performers, reviewers, back stage staff - have benefited from it.'
Mumble Comedy – a free Wordpress blog that uses unlicensed clip art to illustrate the number of stars – was set up for last year's Fringe and only publishes for the festival. It currently has 140 'likes' on Facebook.
And they haven't got around to writing their 'About Us' page, which says: 'This is an example of a page. Unlike posts, which are displayed on your blog's front page in the order they're published, pages are better suited for more timeless content that you want to be easily accessible, like your About or Contact information. Click the Edit link to make changes to this page or add another page.'
Published: 14 Aug 2014
What do you think?