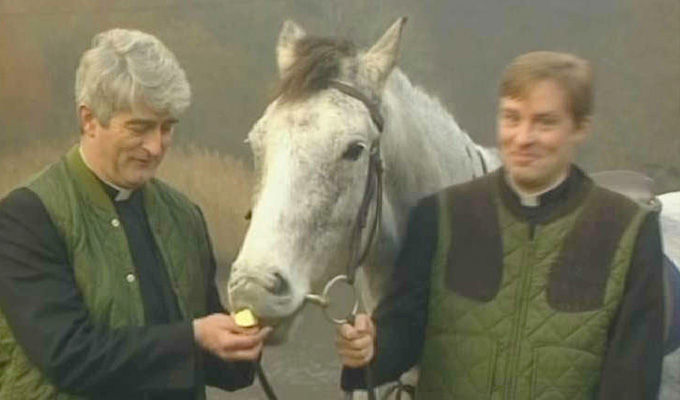 My Lovely Horse falls at the first
A bid to legally force Ireland to adopt the Father Ted song My Lovely Horse as its next Eurovision Song Contest Entry has failed.
Fans formally brought a petition to the Irish Parliament last month, urging it to legislate to ensure the tune was entered into the 2015 competition.
However in a brief consideration, a parliamentary committee said it couldn't force broadcaster RTE to submit the entry.
Chairman Pádraig MacLochlainn, of Sinn Fein, added that legislators 'didn't have the musical expertise' needed to consider the issue – but he did admit it was a 'great song'.
However, outside the committee room he told The Journal that it had been a 'frivolous' submission, saying: 'There's always going to be people — a tiny minority — who submit frivolous petitions or who are acting the maggot.'
Any Irish citizen can submit a petition for the Oireachtas for consideration, and there are no minimum number of signatures required. The My Lovely Horse petition was launched by a group named 'The People of Ireland (and interested Britons too)'.
Unfortunately, the 18-year-old song wouldn't have been admissible for Eurovision anyway, as rules say entrants need to be new compositions.
Here is the song, as featured in Father Ted.
And here is the track's co-writer, The Divine Comedy's Neil Hannon, playing a more earnest version:
Published: 28 Jun 2014
Recent News
What do you think?