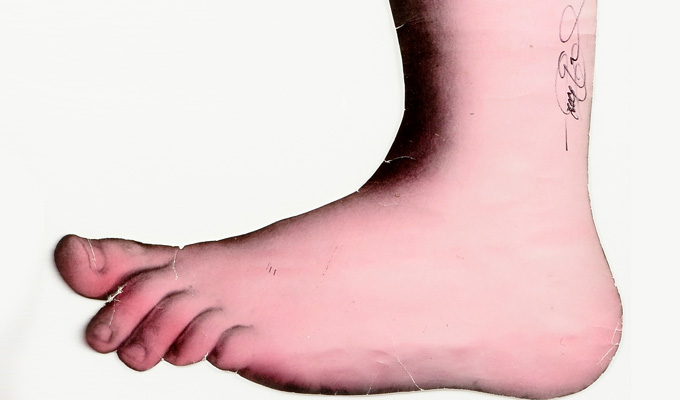 A foot under the hammer
•'Whatever you say, any joke you make about the gay community, it's going to be misconstrued. It's not worth it.' Kevin Hart.
• He has been vehemently opposed to competitions in comedy, calling them a 'malignant and destructive influence' on the artform. Yet last night, The Stand comedy club owner Tommy Sheppard welcomed the Deuchars Beermat Fringe competition to his venue in Edinburgh, with heats in Glasgow and Newcastle to follow next week. And, unlike most competitions that keep the commercial side separate, this one insists that all acts must 'weave' the name of the sponsor into their set. But Sheppard told Chortle he saw no conflict as the Deuchars competition was across all performance genres: 'We're convinced it's not a comedy competition,' he said. 'The majority of people taking part last year – and so far this year – are musicians.' And the winner of last night's heat? A comedian, Ross Leslie.
• Seth McFarlane tonight tells Graham Norton about his first non-animated screen kiss – with Charlize Theron in A Million Ways to Die in the West. He said: 'I was OK with it. I was a little afraid I would look a little goldfishy, but it was alright.' With mock annoyance, Theron adds:'It was just "alright." Really?'
• It's probably the most famous appendage in comedy... And now you could own the actual foot used in several episodes of Monty Python, including the title credits for the German version, Die Monty Python's Fliegender Zircus. The framed cut-out is being put up for sale by animation cameraman David Brookman, who spent several hours filming sequences with Terry Gillam in 1971. Gillam signed the image – taken from Agnolo Bronzino's painting Venus, Cupid, Folly and Time – and presented it to David as a memento. It's going under the hammer at Vectis Auctions of Stockton-on-Tees on July 12.
• Chris Ramsey harnessed the power of Twitter this week, to get a pizza delivered to a train. Heading back to Newcastle after a recording in London, he set up the hashtag #PizzaOnATrain – which trended on Twitter after being picked up by the likes of David Mitchell and Sarah Millican. Eventually he arranged for Domino's to deliver as the train called at Doncaster – and the company few in a few extras for free so he could share with other passengers and staff. This could catch on....
• A funny call from Iain Lee's BBC Three Counties Radio show this week:

• Australian comic Sammy J is flying from Melbourne to Edinburgh to perform one show at the Fringe – and will then fly straight home, just 'because I thought it would be humorous'. The one-off gig is on August 1.
• Louis CK has bought Babe Ruth's old beach house in The Hamptons for $2.49 million. The three-story Tudor-style home is known as Primrose Cottage and boasts six bedrooms, three bathrooms and five fireplaces, and is set in two acres of prime real estate. Have a nose around here
• Channel 4 this week aired what it billed as the first ever fusion of embroidery, animation and heavy metal. Tharsis Sleeps was created by Nicos Livesey and Tom Bunker and aired in the broadcaster's Random Acts slot. And the executive producer was one Harry Hill, who got on board after becoming impressed with Livesey at a graduate art show. The four-minute film contains 3,000 frames made from denim embroidery, which took 3,500 hours to stitch.

• Vinnie's pizzeria in Brooklyn have honoured Simon Pegg with a specially themed menu including Simon Peggplant and Nick Frosting See.
• Tweets of the week
Paul Kerensa(@paulkerensa): I asked a band leader his favourite roads. He said A1, A2, A1234.
Glenny Rodge (@GlennyRodge): Yesterday we said goodbye to my Geordie pal who's emigrating. It was really sad when he finally left. There wasn't a why aye in the house.
Sanjeev Kohli (@govindajeggy): It is with much regret that I must announce my departure from The Complainers Society. I think in the end I just outgroan them
Published: 30 May 2014
What do you think?