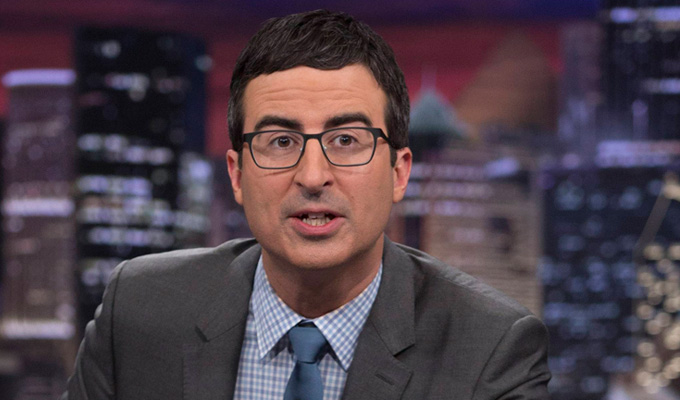 John Oliver's new show impresses critics
John Oliver's new HBO show Last Week Tonight has been hailed as a critical hit – even if most reviewers believe it needs to do more to distinguish itself from The Daily Show.
Oliver was snapped up by the premium cable network after spending eight weeks standing in for Jon Stewart on the Comedy Central show, where he had worked as a correspondent since 2006.
Entertainment Weekly summed up many reviews when it said the new show was funny but 'didn't stray far from the Stewart mothership'.
The opening episode mocked racist rancher Cliven Bundy, the state of Oregon wasting $250billion on its own non-functioning website for Obamacare, John McCain for telling the same joke six times, and a court case that highlighted the extent to which food companies can twist the truth in their advertising.
Entertainment Weekly said: 'Oliver's new show has the familiar rhythms of the show that bore him: Description of news item, comical montage of actual news networks covering said news in an increasingly hysterical fashion, follow-up punchline.'
However, many critics praised the show for an extended section on the general election in India, which has been ill-covered by the America media despite its global importance.
San Francisco Gate welcomed the fact that 'Oliver offered a lengthy and quite funny appraisal of the world's biggest election'.
And Entertainment Weekly said the India segment gave it Last Week Tonight a point of difference from Oliver's former show: 'The Daily Show makes fun of how the media covers the things it covers. At its best, Last Week Tonight seemed more focused on angrily criticising the media for what it doesn't cover.
However the Hollywood Reporter said this report compounded a flaw with the show – that it tried to pack in too much information into a half-hour.
But reviewer Tim Goodman said Oliver's strengths were being both 'angry and strident and funny' and 'silly and charming and ludicrous' – 'and those are things that might be able to be more evident if he had time to showcase them'.
Fellow trade paper Variety also enjoyed the show but suggested Oliver would have been better served at Comedy Central, taking over the slot Stephen Colbert will leave after replacing David Letterman at CBS.
Its review said: 'Oliver is clearly a talent. But… there's a nagging sense he forfeited a promotion at Comedy Central to become a smaller fish in a much bigger pond. As for HBO, as the rich sometimes do, the channel snapped up a shiny bauble, without really having much need for it.'
However, Colbert was only recently named Letterman's successor, months after Oliver quit Comedy Central.
Published: 28 Apr 2014
What do you think?