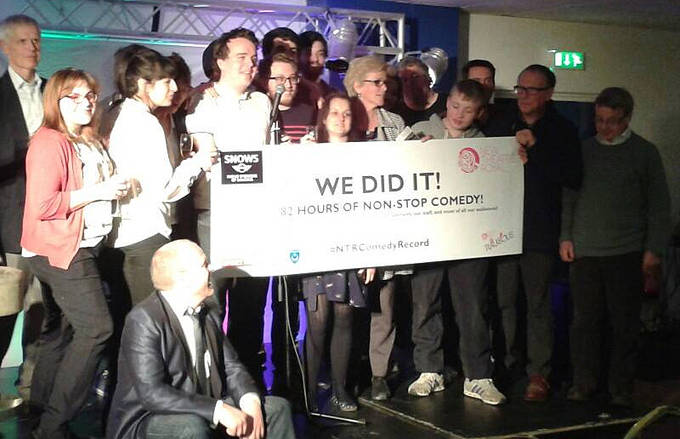 Smashed it!
After more than 82 hours of continuous comedy, the record for the longest stand-up gig was broken in Portsmouth last night.
More than 60 comics set the record, starting at 1pm on Saturday, with a mix of hour-long Edinburgh Fringe work-in-progress shows and club-style line-ups.
The record was passed at 9.21pm last night.
The previous record 80 hours, set at the Laugh Factory in Hollywood in December 2010 and featured 150 comedians. The longest show by an individual is 40 hours and 8 minutes, set by The Midnight Swinger (the stage name of David Scott) in Iowa last April.
Organiser Joe Wells posted after the gig: 'Thank you to all the comics who helped me with my record show, am so proud to work with such great people. We did it!'
He told Chortle he was 'exhausted', adding: 'We're waiting on verification from Guinness World Records but everything seems to have come together. The comics were amazing. It really made me grateful to work in an industry with such lovely if insane people.
Wells previously said he arranged the show at Fratton Park to 'put Portsmouth on the map' and raise money for the city's New Theatre Royal.
Officials are expected to take a couple of weeks to verify the record officially. Rules required there to be an audience of at least ten at all times.
Adam Carroll-Smith from the New Theatre Royal said: 'It's fantastic. Everyone has worked really hard and the team have pulled together to make this happen.'
Published: 19 Mar 2014
What do you think?