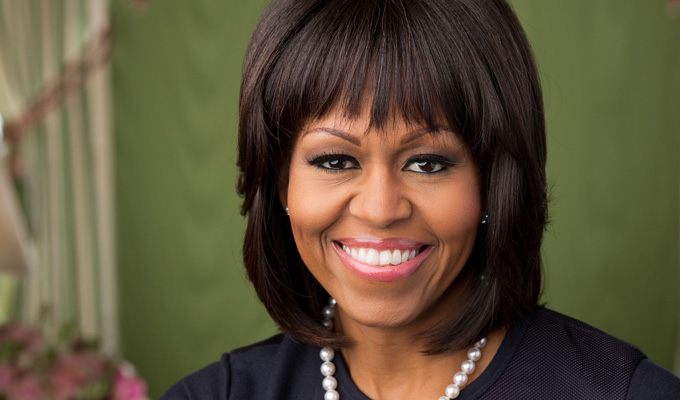 Michelle Obama to appear in Parks & Rec
Michelle Obama is to appear in an episode of Parks and Recreation.
The First Lady of the United States – or FLOTUS – has just filmed her role for the sitcom's season finale, in which she will be promoting her programme to tackle childhood obesity.
The NBC network said: 'Mrs. Obama's scene in the episode titled Moving Up was filmed in late February in Miami where she celebrated investments in healthier out-of-school programmes as part of her Let's Move initiative dedicated to solving the challenge of childhood obesity.'
And the sitcom's official Twitter feed announced: 'Time to get real about Pawnee's obesity… @FLOTUS is coming to town for our #ParksandRec season finale Thursday, April 24!'
Earlier this week Parks and Recreation star Amy Pohler joined Mrs Obama at an event to promote the Let's Move campaign in Miami, when the scenes were shot.
At the event Poehler gave a speech in which she joked: 'Just ask yourself this question: Without parks, where would we put all the swings? It would be in the middle of the road. It would be very dangerous.'
As the First Lady laughed, Poehler added: 'This is so fun! Mrs. Obama is standing next to me like she's my audience and I'm just telling her jokes. This is like a dream.'
Mrs Obama is not the first senior political figure to appear on the show. Vice President Joe Biden made a cameo appearance in 2012, and senators John McCain, Olympia Snowe and Barbara Boxer have also taken part.
The First Lady has previously appeared on TV shows including Sesame Street to promote her anti-obesity agenda.
The third series off Parks and Rec is currently being shown on BBC Four in the UK – three seasons behind the US.
Earlier this year NBC announced a seventh season had been commissioned, but executive producer Michael Schur yesterday suggested that the 2015 series might be the end for the employees of Pawnee council.
'It would be natural if next year were the last year.' he told Entertainment Weekly. 'I mean, you never know. We thought season 3 was our last year… No decision has been made on that, but it wouldn't surprise me if next year were the final season.'
Published: 28 Feb 2014
What do you think?