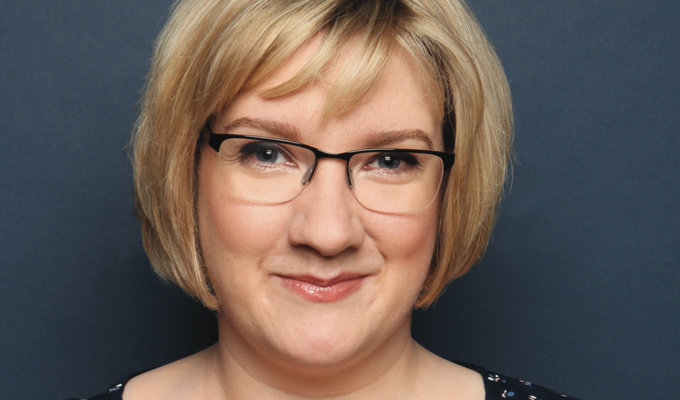 'Better known as Harold Bishop from Neighbours...'
• 'I'm a victim of my own niceness.' Jason Manford.
• We're loving the appallingly leaden prose in the pisspoor biography of Sarah Millican 'written' by former News Of The World journalist Tina Campanella, which even by the standards of cash-ins culled from newspaper cuttings is spectacularly dreadful. 'It was May 1975,' she writes of the month of of Millican's birth, desperately padding: 'The same year that Charlie Chaplin was knighted by the Queen… and the first year that unemployment exceeded 1,000,000 in the UK.' Of the 1984-5 miners' strike she defines it as the period 'immortalised in the film and theatre hit Billy Elliot and the Bafta-nominated film Brassed Off' rather than anything more meaningful
• But our favourite passage (so far, we're only up to Chapter 3) is when she describes The Dog and Parrot in Newcastle where Millican performed her first gig. She writes: 'Comedians who have performed there include Kai Humphries , former Byker Grover actor Phil Harker and Dan Willis - better known as Harold Bishop from Neighbours, who has been performing there in his infamous specs and leather jacket for years.' For those who don't know, Bishop is played by 75-year-old Australian actor Ian Smith; Willis is a 40-year-old comic from Newcastle. Who doesn't wear glasses…
• Incidentally, while on the now-defunct Murdoch paper, Campanella's scoops included: 'Prem star's night with Oompa Loompa dwarf'.
• Matt Lucas has been plagued by a prank caller this week. He revealed on Twitter that she asked him to be on Britain's Got Talent, offered him a Marks and Spencer ad, and told him a leopard had escaped near his home. He told his Twitter followers: 'I've no idea why. She doesn't have much of a gift for it. I just listen patiently for her to run out of steam. It's weird. She called me to say a leopard had escaped from London Zoo and I should leave my flat. I said, "I'm in LA right now. I'm not too concerned."'
• Russell Brand's My Booky Wook 2 has been banned from Guantanamo Bay. Detainee Shaker Aamer amuses himself by testing what censors will let through, and told the New Statesman that the comic's memoirs were deemed a no-no. But not because they might fan the flames of jihad. 'I understand that Brand uses too many rude words,' he wrote.
• Milo McCabe – aka Portuguese sensation Philberto – recounts on Facebook this exchange which happened at Just The Tonic in Leicester last night:
(Inaudible heckle)
Me: Who was THAT?
Bloke: Our mate Dave. Monkey Dave.
Me: Monkey Dave?
Bloke: Monkey Dave.
Me: I can't see Monkey Dave but I'm going to presume that he's called that because he throws his own shit at people and not for racist reasons...
Bloke: Erm...
Everyone else: Wow.
• Think Jimmy Carr gets everywhere? Here he is – bizarrely – illustrating an article on Slate about job interviews held in Starbucks. The photo came from a promo he did for them last year, back when we thought they both paid their full tax burden…
• It's become one of the most hack-putdowns in comedy. But blogger John Fleming this week reveals at least some of the origins of the line directed at many an unruly heckler: 'Isn't it a shame when cousins marry?' It appears that circuit act Steve Rawlings introduced it to the UK – after stealing it from a fellow juggler in the States. He said: 'I'd got it from a big-headed American juggler who was doing put-down lines on the other acts while we were sat drinking before a gig. He came out with three when I was sat alone with him. One was the "when cousins marry" line. One was "It's hard to believe out of millions of sperm you were quick enough to get there first". And the last was "Living proof that Indians DID fuck buffalo", which was never going to work in England.' Rawlings said he started using the first two lines…but after a couple of months Malcolm Hardee nicked them off him and 'not long after that everyone was using them'.
• Miranda Hart says a lot of people only know her from Call The Midwife and come up to her and say: 'Chummy is quite a funny character, have you thought about doing comedy?' 'I always answer politely,' she tells Graham Norton on his show tonight, 'But I want to say, "Would you buy the box set of my sitcom?"'
• This Sarah Millican book keeps on giving. There's a section called Sarah's Top Stand-Up Tips. They include: 'Some budget hotels have takeaway menus at the front desk'. Priceless…
• Tweets of the week
Jason (@NickMowtown): Going to the bookies & saying "£50 says I can tell Clover from Utterly Butterly, or don't you take spread bets?" can lead to serious injury.
Jack Dee(@TheRealJackDee): I used to think Follow Friday was a new name for Saturday.
David Stokes (@scottywrotem5m): Abstain: to leave a brown streak of fear down the side of a building while abseiling. #ued
Published: 20 Dec 2013
Recent News
What do you think?