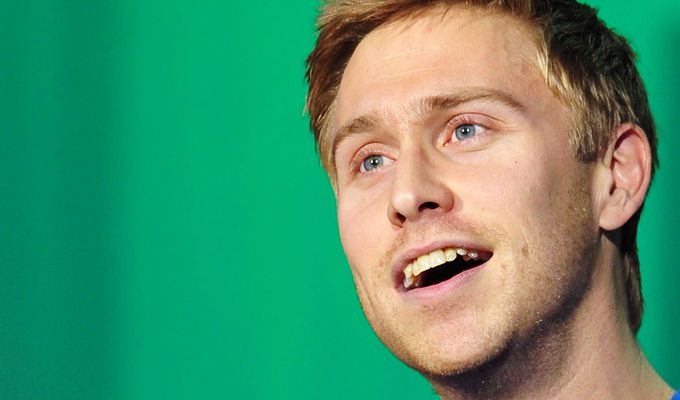 Scam targets Russell Howard fans
Russell Howard has been forced to deny that he's performing a fundraising gig for Scientologists, amid fears his fans are being targeted in a scam.
The comic tweeted today: 'Woke up this morning to find I'm apparently doing a benefit for Scientology!? Of course it's not true. I'm not a Scientologist; I'm a Jedi.'
Howard was forced to issue the denial after John Wood, a PR professional and Scientologist, posted a message on Facebook that the comedian would be performing at the sect's UK head office next year.
Howard's management Avalon told Chortle that there was 'no truth whatsoever' in the claim that he had ever been booked for the gig at Saint Hill Manor in East Grinstead, or for any other Scientologist benefit.
The venue confirmed to Chortle that Howard was not booked to perform on Valentine's Day weekend, as the message stated, but added that Mr Wood might have arranged a 'private event'.
Previous celebrities to have appeared at Saint Hill Manor events include prominent Scientologists Tom Cruise and John Travolta.
Wood, who was anointed Monty Python's biggest fan by the British Film Institute last year, runs the public relations firm World Wide PR.
He posted on his Facebook account last night: 'We are holding a very special Ideal Org fund-raising event in February here in East Grinstead: the hilarious Russell Howard will be doing a private gig!'
Tickets offered included £75 for standing, £175 for the second and third rows, £500 to include a signed book and £1,000 to meet the comedian. But Howard has not written a book.
Wood's post has since been deleted but Howard fans have described how they had been approached via Facebook and asked if they would buy tickets to the non-existent event.
In a Twitter exchange with the comedy discussion site Cook'd and Bomb'd, one fan told how Wood offered her a 'VIP ticket' for £800.
Neither Wood or World Wide PR have replied to Chortle's request for comment.
'Earlier this month, Mr Wood told the East Grinstead Courier that he was transcribing Monty Python's studio albums for a book, with the support of Eric Idle.
'He told the paper: 'It is a dream come true. I can't believe I'm in e-mail contact with my childhood hero.
'Hopefully the book will be out for next Christmas and will be the definitive transcription. It will have every "ooh" and "aah".'
Scientology this week won a significant victory in its battle to be recognised as a religion in the UK after five Supreme Court Justices ruled that a couple could marry at at the Church of Scientology chapel in Central London.
– by Jay Richardson
Published: 18 Dec 2013