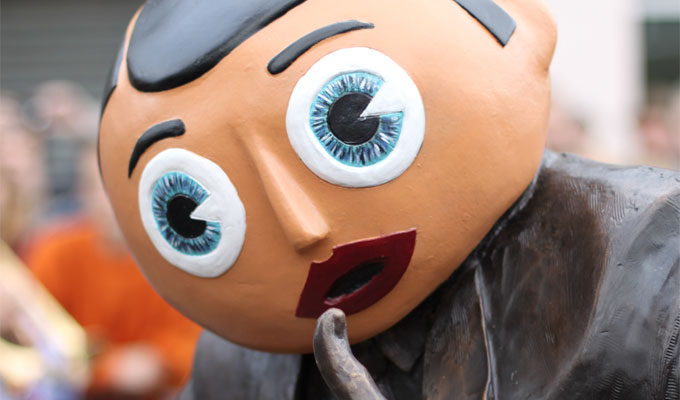 He'll gaze on the Timperley sunset forever...
Frank Sidebottom fans filled the streets of his native Timperley today, as the a statue to comedian and musician was unveiled.
It marks the culmination of a grassroots campaign that raised £60,000 to pay for the bronze to be made in a Czech foundry. Its head is painted to replicated Sidebottom's distinctive papier-mache look.
Fundraiser Neil Taylor said that now 'Frank will gaze on the Timperley sunset forever'.
Sidebottom was the alter-ego of Chris Sievey, who died in 2010, and often referred to his home town in his work. Next year Michael Fassbender will star in Frank, a movie inspired by the character and based on a fictional memoir by Jon Ronson, who was once in Sidebottom's band. Taylor said: 'From now on people are going to come here to see the statue and once the film of Frank is made. It's going be a world-wide destination.'
An estimated 1,000 people attended the unveiling at 11.37am, many in fancy dress. Damon Gough, aka Badly Drawn Boy, was there, and handed over his Mercury Prize to Sievey's family.
Afterwards, a music gig was held at the nearby Stonemasons Arms.
The 5tf 8in statue was designed by Chester-based sculptor Colin Spofforth.
Pictures: Ian Fox
Published: 20 Oct 2013
What do you think?