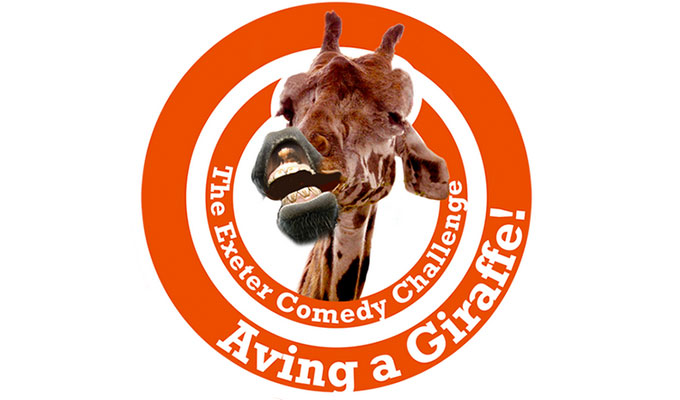 They've got some neck!
A new act competition has been accused of exploiting acts after charging £25 to enter.
Not only is the Aving A Giraffe contest in Exeter in November running the controversial pay-to-play system - it is also charging an eye-watering £24 for tickets to be in the audience.
The announcement of the competition caused outrage on the Comedy Collective Facebook page, frequented newer acts.
Ray Davis called the organisers 'rip-off merchants'' while Andy Evans said the contest was 'so bad it looks like a well produced piece of satire'.
Paul Dunn added: 'Wow. This is either the most ill conceived or genius business venture ever.'
And Ade Thompson said: 'Wow. £25 to enter a competition? Sure. This all sounds totally 100% normal. Aspiring comedians are known for being super rich, and at £24 entry for audience: it's destined to be RAMMED. Is there any way I can pay more?'
The event is being held at the Great Hall in Exeter University, which has a top capacity of 1,800 - which would mean a box office take of £43,200 if it sold out... although how many people would pay more than most TV stars charge to see new acts is a moot point.
For just £1 more, comedy fans could see Sarah Millican at the Exeter Corn Exchange, which is also hosting Lee Nelson, Adam Hills and Stephen K Amos for less than £24. At the city's Phoenix Arts Centre, Mark Thomas, Daniel Sloss, Craig Campbell and Paul Foot are all less than £15.
The high ticket price for the Aving A Giraffe competition raises the prospect of new acts paying to play a massive, but largely empty, venue.
The final is being marketed to students, with promotion in the university, at RAG week and with the student union.
Funny Women previously introduced a £15 charge for aspiring comedians to enter its new act competition, and was roundly criticised for doings so.
Organisers of  Aving A Giraffe have not responded to Chortle's request for comment about their charging policy.
• Chortle mentioned the event in out 'tight 5' round-up of news in brief last week, against our policy not to promote pay-to-pay events. Organisers did not mention the £25 entry fee in the email or attachment  explaining the rules of the competition they sent us, and we apologise for giving any publicity to the event.'
Published: 2 Oct 2013
What do you think?